Learn How to Crochet and Read Patterns – The Ultimate Guide
Learning to crochet is almost like learning another language to many beginners – just learning how to read crochet patterns seems terrifyingly daunting at first. Reading crochet patterns is the equivalent of reading a book where it's done left from right. We're going to help you understand how to crochet and read patterns for whether you're a beginner to the crocheting world or an experienced crocheter looking to strengthen their skills. We're sharing some cheats, tips, and tricks you need to learn how to read crochet patterns including the different abbreviations. PLUS we're sharing a video on how to crochet with left-hand for all of you left-handers. Let's get to it!
Crochet Abbreviations & Terms Cheat Sheet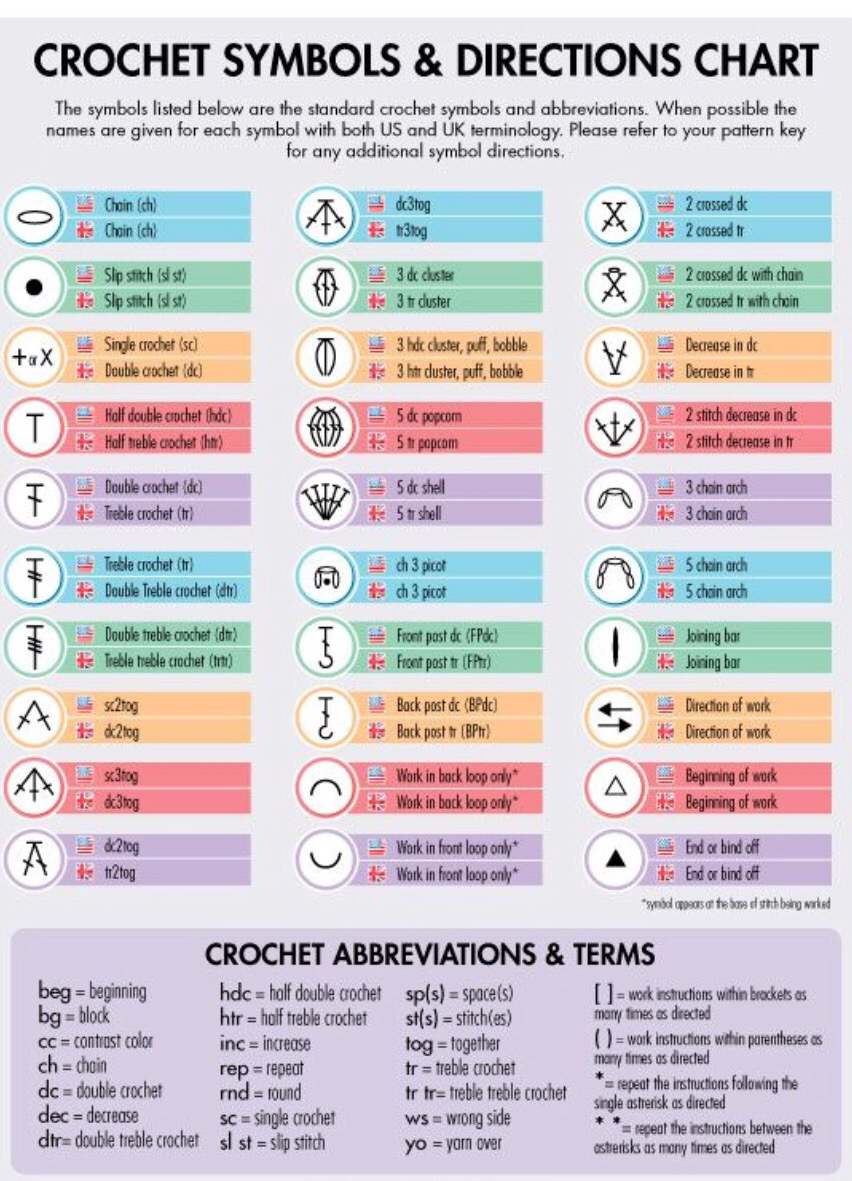 Image Credit: crochetandtea.co.uk
The image above is an ideal reference guide to all of the crochet abbreviations, terms, and symbols used in various crochet patterns. If you find yourself looking at a pattern in another language the symbols will help guide you through.
Crochet Foundation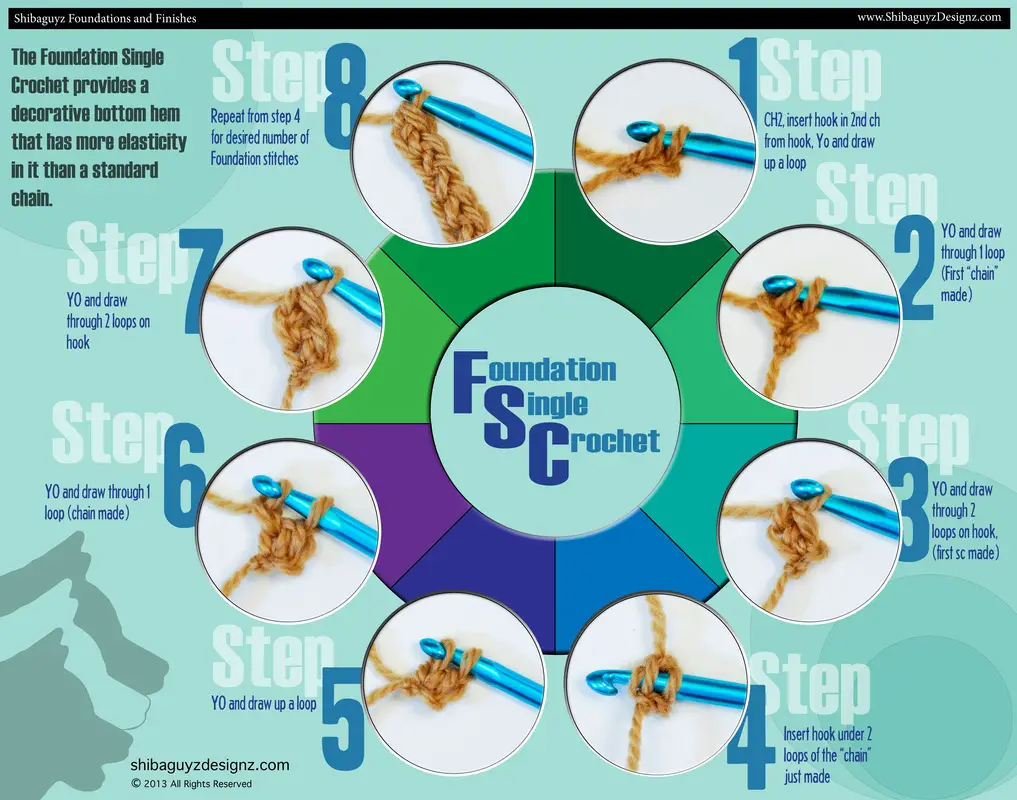 Image Credit: shibaguyz.com
Many masterpieces start with foundations. Abbreviated FSC for Foundation Single Crochet it's a stitch that keeps the afghan, sweater, etc., tight with a consistent stitch tension as it works like a hem. It is the first step into learning the basics to crocheting.
Slip Knot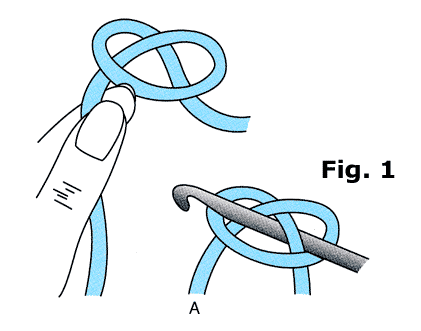 Image Credit: craftyarncouncil.com
Many patterns assume you know the very basics of crochet patterns and fail to mention the slip knot as shown in figure 1. The slip knot needs to be created before the foundation stitch chain.
First, you create a loop using the end of the yarn and slip the loop on top of the crochet hook. Next, you will wrap the yarn back over the hook and pull the yarn through the loop. Lastly, pull the crochet hook up using one hand while holding the other two ends of the yarn with the other hand to tie the slip knot tightly.
Slip Stitch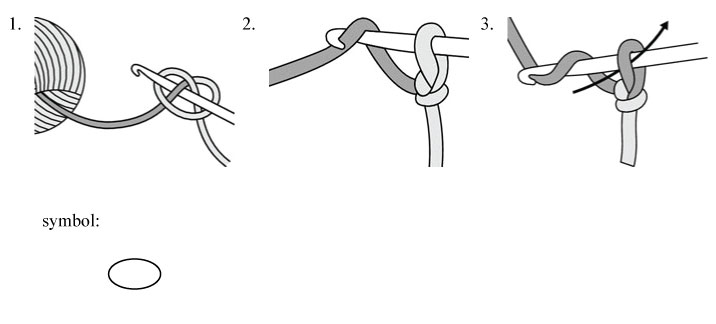 Image Credit: howsanne.blogspot.com
Now that you have the slip knot you move on to what is called a slip stitch (abbrev. sl st) which is the smallest or flattest stitch. It is important that you keep in mind that you don't count the slip knot in your stitch count, so if the stitch pattern calls for a count of 6 your stitch will show 7 omitting the foundation knot. Keep repeating the step above until you have a chain.
Video Tutorial for Beginners (Right-Handed)
Video Credit: naztazia via YouTube
The instructor, Donna, will demonstrate how you need to hold the yarn and hook. She will always show viewers how to make a chain and single crochet stitches and the tricky maneuver of turning and finishing your final work. Don't worry left-handers, there is a video for you, too!
Video Tutorial for Beginners (Left-Handed)
Video Credit: naztazia via YouTube
We're back with a video for the left-handed crocheters and again demonstrated by Donna, teaching you the beginning steps to crocheting while also including a free dishcloth pattern to practice until you feel comfortable.
Hook Sizes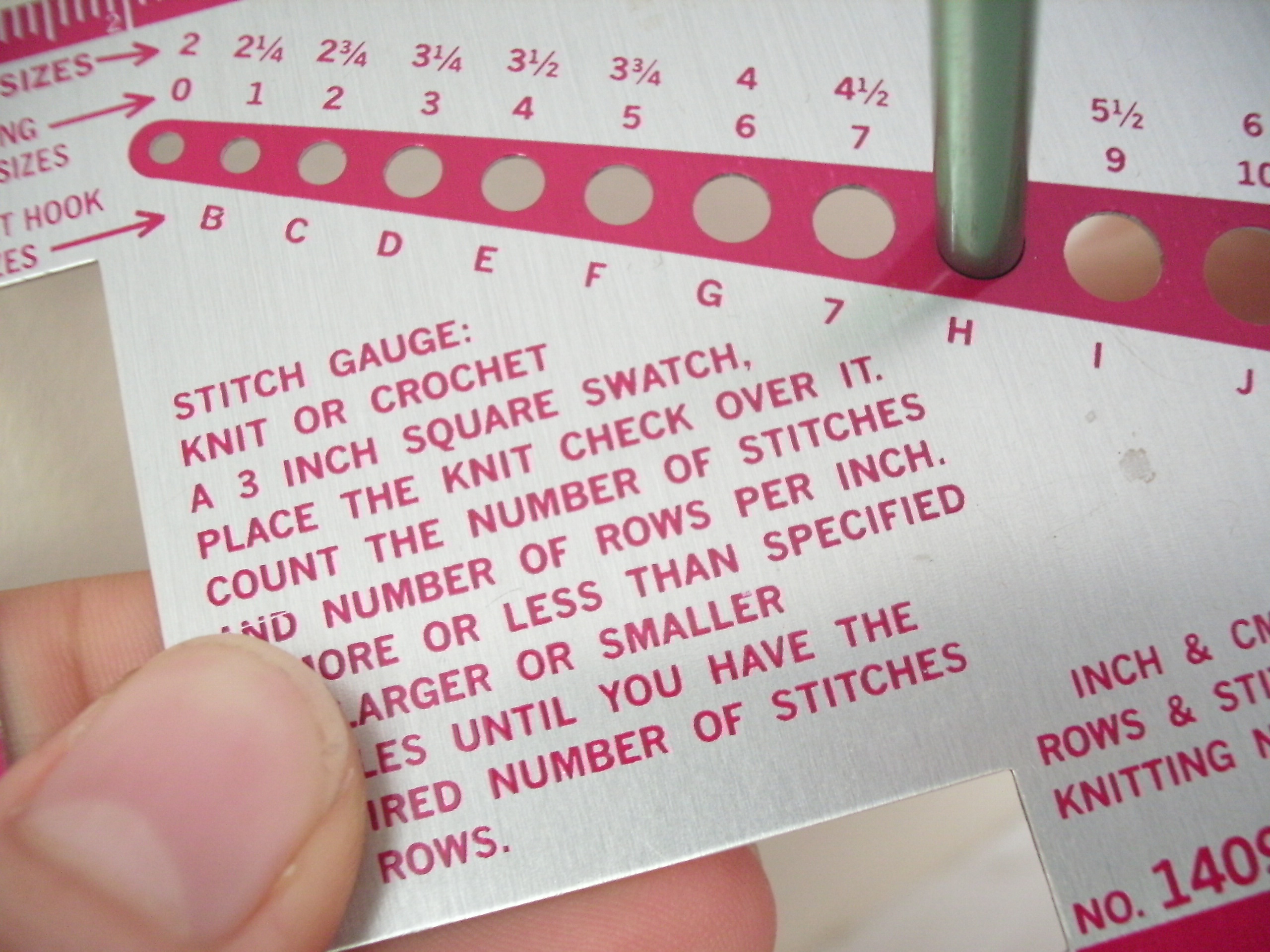 Image Credit: freshstitches.com
Many old crochet hooks don't list the size hook that it is like new hooks will have the number or letter, and when you have a set of hooks carried down from your grandmother, etc., and are looking forward to creating beautiful designs using a family hook, then you will need a gauge. Insert the hook until the shaft of the hook is in and hit fits like a glove.
Hook Type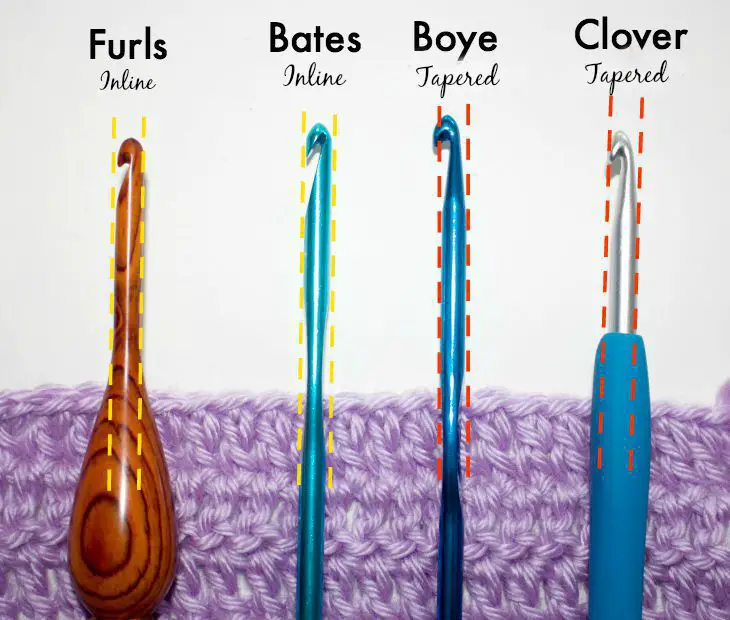 Image Credit: pattern-paradise.com
Hook size isn't the only thing to focus on when choosing the hook for a pattern since there are various kinds of hooks for different designs to achieve the ideal gauge. The image below illustrates the difference a hook type can make using the same yarn, pattern and operator.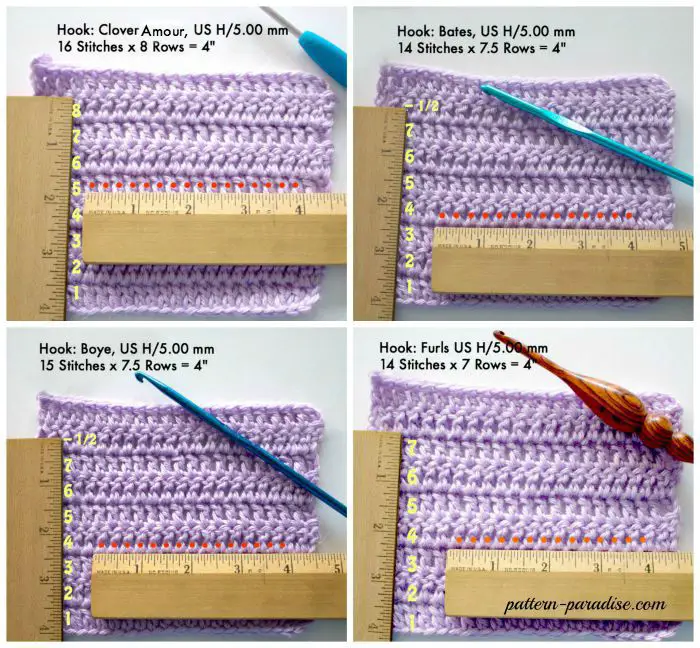 Image Credit: pattern-paradise.com
In the example shown above, you can see the difference using various hook types can make affecting the gauge even when the stitch and row counting remained the same.
Buying Your First Crochet Hook

Image Credit: hijennybrown.com
Here we have a very convenient crochet hook buyer's guide created by "Hi Jenny Brown" who also has a downloadable PDF version for you to save and keep on hand. There are so many variables that go into buying your first crochet hook that many crocheting novices walk into an aisle thinking they will just need to purchase the hook that matches their favorite color and a ball of yarn. Thanks, Jenny!
Collection of Crochet Tips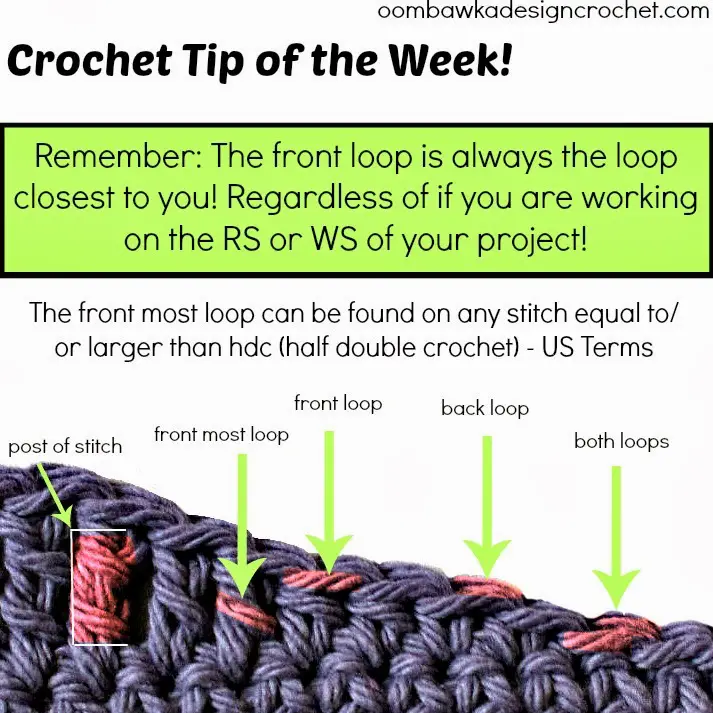 Image Credit: oombawkadesigncrochet.com
Many people are visual learners and remembering that the first loop is always the closest to you regardless of the pattern will help give you less to remember in the beginner stages of learning how to crochet.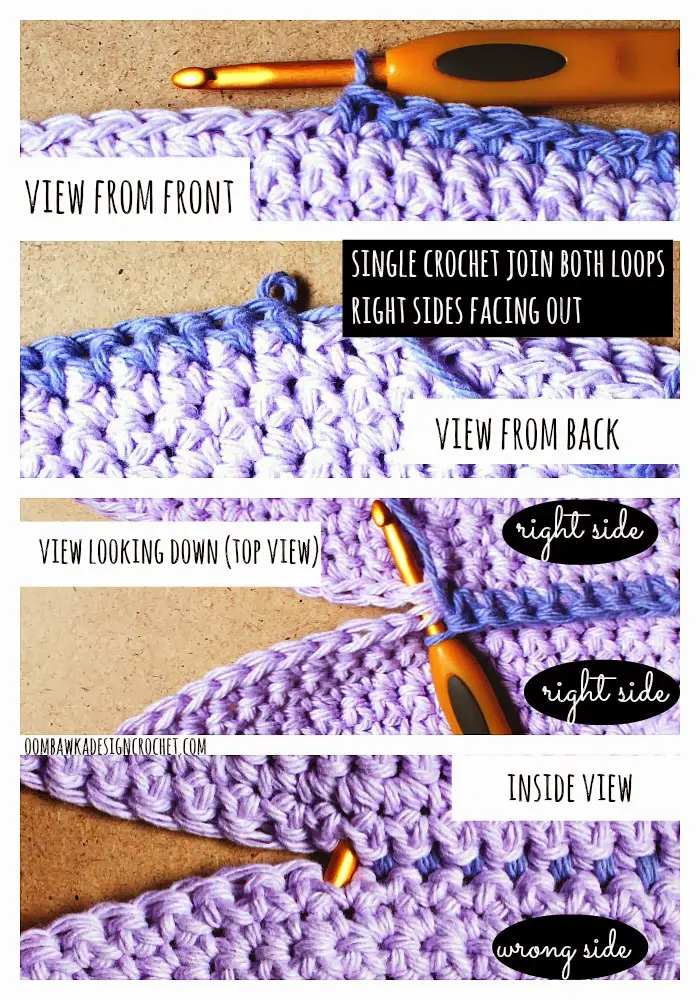 Image Credit: oombawkadesigncrochet.com
Here is an excellent illustration to get the most decorative edges and seamless seams.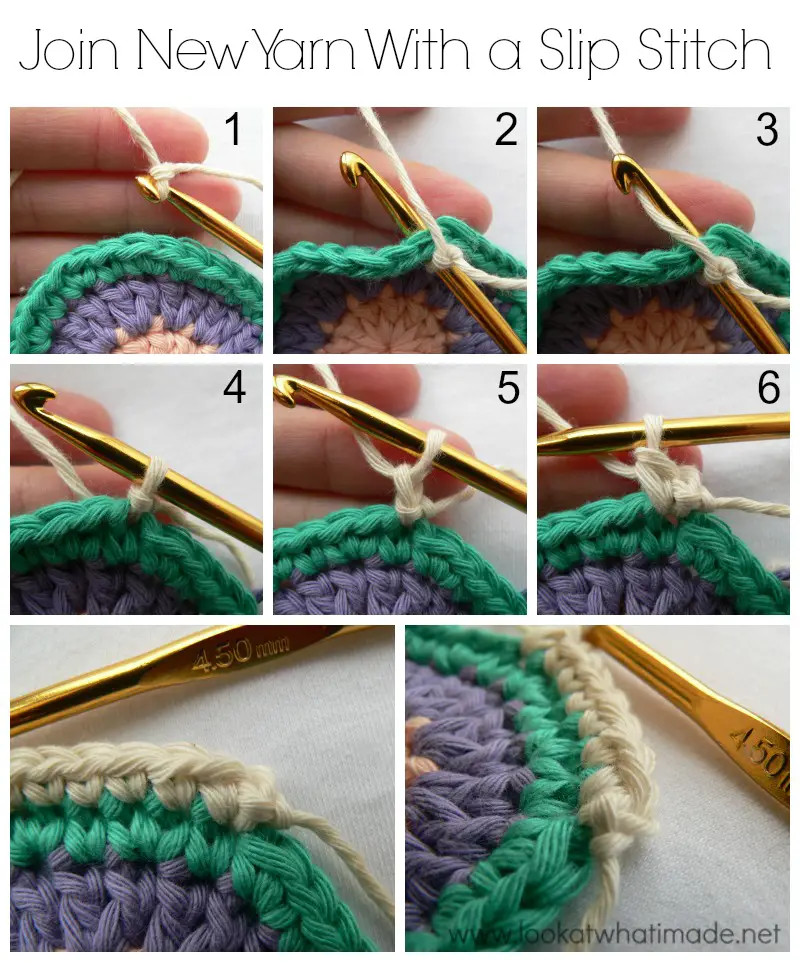 Image Credit: lookatwhatimade.net
Looking to join a new color to the beginning of a new round without the slip stitch being noticeable using this helpful diagram will get you started.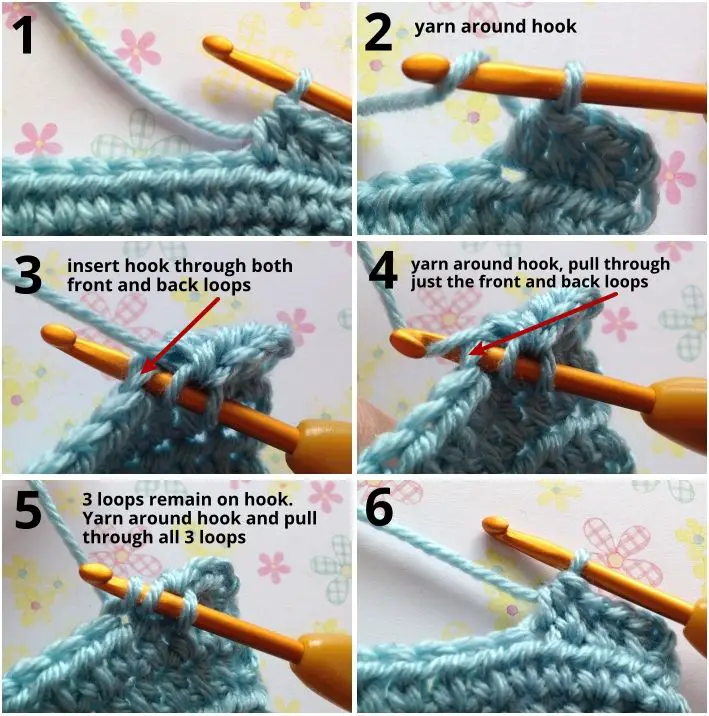 Image Credit: thestitchinmommy.com
Here is a terrific diagram showcasing the half double crochet broken down into step-by-step images.
How Much Yarn Needed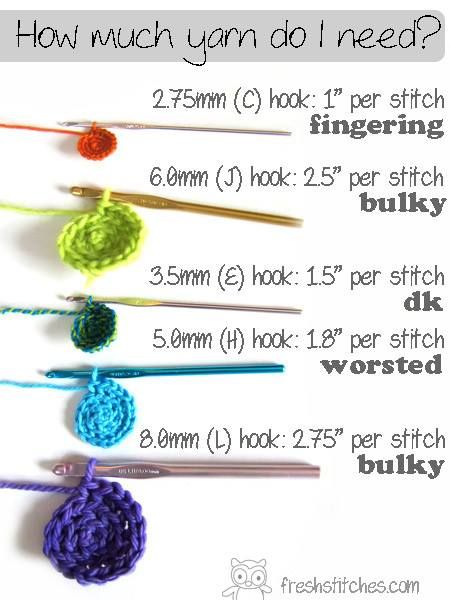 Image Credit: freshstitches.com
Here is a handy illustration showcasing how much yarn that you'll need for yarn and hook sizes. You see here just how different a hook can affect the design you're aiming to achieve so be sure to purchase the correct hooks.
US Crochet Terms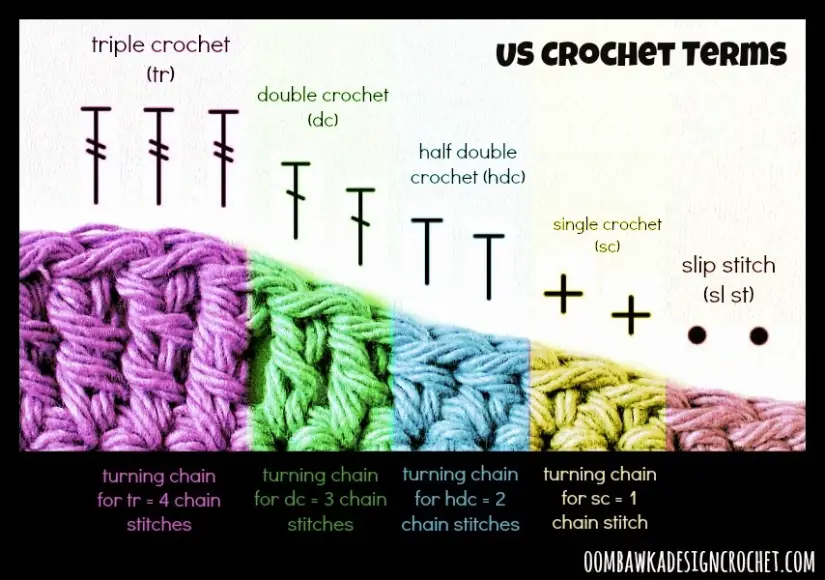 Image Credit: topcrochetpatterns.com
Earlier in the post, we showed you the crochet terms and here is another one with crochet patterns to match the terms for the visual learners as it always helps to see what the results will look like following the crochet symbol.
There you have it whether you're a novice or someone needing to strengthen their crocheting skills we hope that what you see here helped ease some of your concerns to a somewhat daunting skill to learn. Have fun and start creating your first masterpiece. Crocheting is meant to be a relaxing hobby, and it will be once the basics are mastered.
Thanks for reading and be sure to share this info with your friends using the social share buttons below. Talking about social stuff, consider liking our Facebook page to keep up to date with our articles. Check out our other articles for more mental scoops!