The EASIEST And BEST Rice Pudding Recipe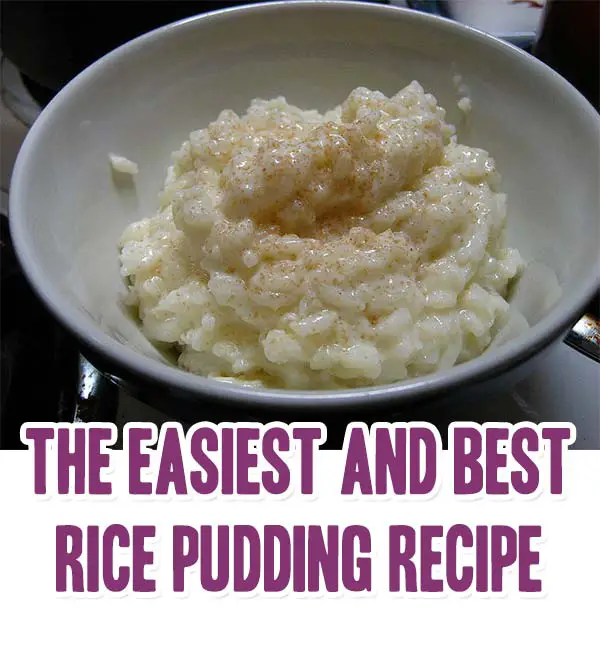 I love making homemade rice pudding, this recipe tops ANY recipe you have ever tried. I pretty much can safely say that it may be the BEST recipe EVER!!
My recipe (at the end of this post) gets amazing reviews from everyone I serve it to. You can sprinkle the rice pudding with nutmeg or cinnamon if you need different flavors.
Before you get my recipe, take a look ot some other rice puddings pictures and recipes posted by people from all over the world.
The secret tip to making the BEST rice pudding
Not many people know this little step for making the best rice pudding. It is the timing of the sugar…. The sugar must not be added until the rice is thoroughly cooked otherwise it will forever remain hard.
Amazing rice pudding creations
Other mouthwatering recipes by other people
The EASIEST And BEST Rice Pudding Recipe
Print Recipe
Amazing Rice Pudding Recipe
This is quite possibly the BEST rice pudding recipe you will EVER make!
Ingredients
3/4

cup

uncooked white rice

2

cups

milk

1/3

cup

white sugar

1/4

tsp

salt

1

egg

Beaten

1

tbsp

butter

1/2

tsp

vanilla extract

the best you can find will make all of the difference
Instructions
Bring 1 1/2 cups water to a boil in a saucepan.

Stir the rice into the boiling water. (do not put in if the water is NOT boiling) … Reduce the heat to low then cover and simmer for 20 minutes.

In a new saucepan, combine 1 1/2 cups cooked rice, 1 1/2 cups milk, sugar and salt.

Cook over a low-medium heat until thick and creamy. Stir in the remaining 1/2 cup milk, beaten egg and cook 2 minutes more, constantly stirring.

Remove from the heat and stir in the butter and vanilla extract.
More delicious food related posts you may be interested in reading:
How To Make Yeast From Scratch
5 Reasons You Should Be Cooking With Cast Iron
Over 400 Amazing Meals In A Jar Recipes
Two Amazing 100 Year Old Mead Recipes
SWISS CHICKEN CASSEROLE RECIPE
If you enjoyed these recipes today, we would be grateful if you could share this article on your social media accounts.