A Year Of Slow Cooking Recipes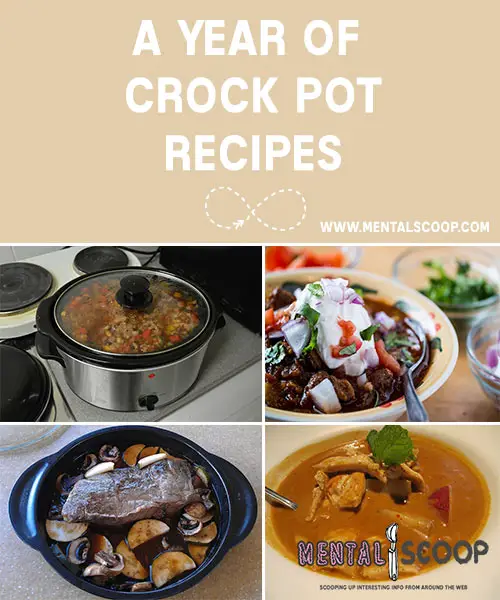 I love cooking in my crock pot. Some of you may call it a slow cooker but they are the same thing no matter how you describe it.
They are great for warming up the body after a day of work and they are great for keeping your house cooler during the summer months.
Who want to slave over a hot stove when it's hot anyway? I know I don't.
You will save a ton of money eating this way and its really easy to make each and every one of the dishes.
SO stop eating all the processed foods out there, eat a more wholesome diet and best of all, experiment and give your taste buds something different for a whole year.
After all, all you need to do is put all the ingredients in the slow cooker, set a timer and relax… easy peasy, lemon squeezy.
Below you will find links to recipes grouped by category: Right CLICK the links to open them in a new tab, then you can see all of the recipes easily 🙂
Beverages
Breakfast
Appetizers
Dips & Fondue
Soups & Stews
Beans
Side Dishes
Fish & Seafood
Chicken
Turkey
Vegetarian
Light & Healthy
Beef & Lamb
Pork
Fun Stuff
Flop << Tried it and didn't like it
Dessert
I want to give a big shout out to Stephanie from ayearofslowcooking.com who gave us permission to share her links.
Head on over to her website for even more slow cooking recipes and advice.
More interesting articles you may be interested in reading:
5 Reasons You Should Be Cooking With Cast Iron
Over 400 Amazing Meals In A Jar Recipes
Two Amazing 100 Year Old Mead Recipes
Thanks for reading and be sure to share this info with your friends using the social share buttons below. Talking about social stuff, consider liking our Facebook page to keep up to date with our articles. Check out our other articles for more mental scoops!