10 Youtube Channels With FREE Art Lessons For Kids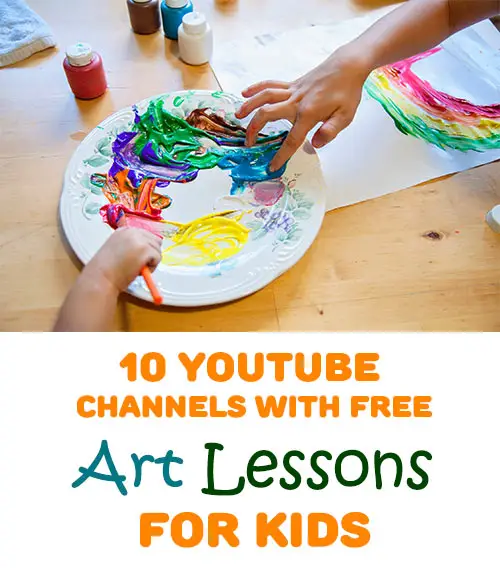 Kids get bored easily. That there is true with all kids. It doesn't matter if they like to read books, or spend hours on a phone or tablet, they will get bored!
Curb the boredom and tickle their creativity with some FREE art lessons. You can pay big bucks for art classes or art lessons and not to mention the time taking them to and from lessons, well not anymore…
Art is relaxing and will certainly keep your kids entertained for hours. Who knows, maybe you will turn them into the next picasso!
I found 10 great, and reputable youtube channels that offer FREE art lessons for kids.
Obviously I could list hundreds but the 10 I am sharing with you today I have used over the past or have been recommended to check out by my homeschool mom friends.
FREE Art Lessons For Kids – Youtube Channels
Wild Free and Crafty — We are providing FREE art lessons beginning Monday, March 16th, due to many schools closing to stop the spread of Coronavirus. I began this initiative as a way to help our community and help parents who are concerned for their kids' education during long periods of time off of school.
Art for Kids Hub — We love doing art together and hope you follow along with us. Many of our lessons are perfect for any age, all you need is a few supplies!
MrPstudios — Super simple art lessons for kids. Mr.P is an elementary art teacher who loves to teach kids Art.
my-how-to-draw.com — Have fun learning with drawing lessons for young and old. The whole family can join in for one of the all-time best indoor activities for kids on those days when you're stuck indoors and need something to pass time… plus you'll be acquiring a new useful skill for life!
The Kennedy Center — Learn how to doodle. Easy to follow videos by the kennedy center of performing arts.
HooplaKidz Doodle  — With easy step by step tutorials, anyone can learn to draw popular characters like Spongebob Squarepants, Princess Anna from Frozen and many more!
Young Rembrandts — A Passion for Teaching Art to Children At Young Rembrandts, it's our mission to raise generations that value the power, the passion and the significance of art.
Cartooning Club How to Draw — Looking for fun and easy ways to improve your drawing skills? You've come to the right place. Art is an essential life skill that everyone should learn.
Createful Kids — Our videos are, step by step, and easy to follow with art teacher Ashley Krieger and kids.
KIDS HUB — KIDS HUB is a channel designed for kids under 7. We upload art lessons that help kids to learn all about letters, numbers, shapes, colors, animals, and so much more while listening to beautiful melodies and original songs.
I hope that you and your kids can use these channels and spend some quality art time together as a family.
Instagram Art Ideas
More interesting articles you may be interested in reading:
How To Remove A Tree Stump Painlessly
10 Vital Home Maintenance Tasks You'll Regret If You Forget
See How Much Propane Is Left In A Tank With No Gauge
Thanks for reading and be sure to share this info with your friends using the social share buttons below.
Talking about social stuff, consider liking our Facebook page to keep up to date with our articles.