Natural Remedies For Sciatic Pain Relief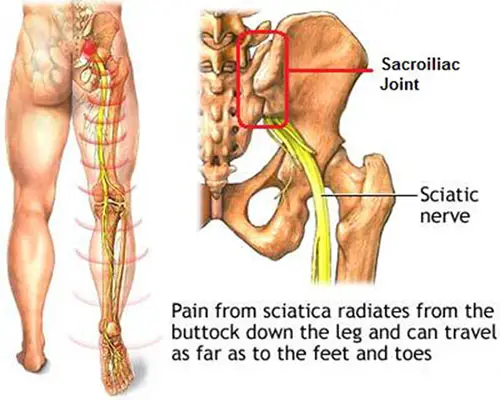 Sciatic pain, or sciatica, is a debilitating condition which can have profound effects upon the lifestyles of those who suffer from it.
Sciatica is a common type of pain affecting the sciatic nerve, the large nerve which extends from the lower back down the back of each leg.
Symptoms of sciatica include pain in the rear or leg which is worse when sitting, burning or tingling down the leg, numbness or weakness of the leg, and a shooting pain that makes it difficult to stand up. Sciatica can be caused by lumbar spinal stenosis, degenerative disc disease, and pregnancy among other issues.
Traditional treatments and drugs for sciatic pain can be costly and invasive. Doctors prescribe narcotics and muscle relaxants.
In many cases, injection of a corticosteroid around the involved nerve root are recommended. The number of these injections may be limited due to a rise in potential side effects. 
There are natural alternatives for the sufferers of sciatic pain. These remedies may be used in combination to maximize their effectiveness.
Ice and Heat
According to Mayoclinic.org, initial relief may be obtained by using a cold pack.
This may be an ice pack, or even a package of frozen vegetables wrapped in a clean towel.
Apply the cold pack to the painful area for up to twenty minutes several times a day.
After using the cold pack technique for two or three days, heat packs may be implemented.
You may use hot packs, a heat lamp, or a heating pad on the lowest setting. For continuing pain, try alternating cold packs with heat.
Stretching
Stretching exercises may help relieve nerve root compression. Avoid any bouncing, jerking, or twisting during your stretches. Try to hold the stretch for at least thirty seconds. Check out this amazing stretching video to help with your sciatic pain:
Herbs
Some natural herbal remedies which sufferers of sciatic pain may wish to try are turmeric, Jamaican dogwood, St. John's Wort oil, and humble garlic.
Turmeric is a perennial plant of the ginger family. It is native to southwest India, and possesses anti-inflammatory properties.
Turmeric can help relieve sciatic pain and swelling due to these anti-inflammatory benefits.
Turmeric can be ingested as a tea, used in your cooking, or applied as a paste.
Natural Remedies For Sciatic Pain Relief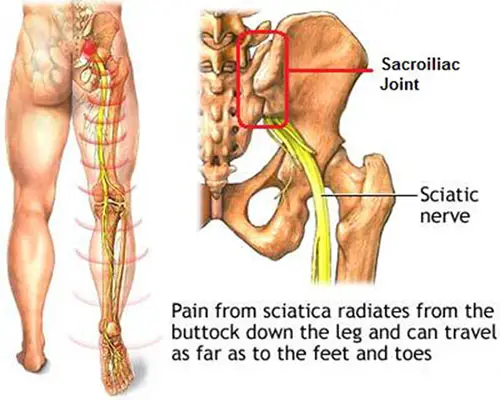 Turmeric Tea Recipe:
4 cups of water
1 teaspoon of turmeric.
Bring the water to a boil and add the turmeric, reduce the heat and simmer for ten minutes. Remove from the heat and strain using a fine sieve. You may serve this tea with honey or lemon (or both)!
Turmeric Paste Recipe:
1/3 cup of unpasteurized honey
1 teaspoon vanilla extract
2 1/2 teaspoons of turmeric
1 teaspoon of cinnamon.
Blend all of the ingredients together and store in a glass jar.
Garlic: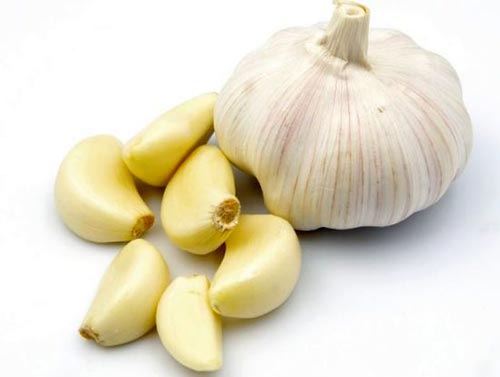 Relief of your sciatic nerve pain may be no farther than your own kitchen. Garlic, the beloved staple of Italian cooking, is known for its anti-inflammatory benefits as well.
Increase your use of garlic in all of your culinary efforts. You may also consider consuming four raw cloves of garlic every morning.
This is also an excellent method for boosting your immune system. Garlic supplements are also available.
Jamaican Dogwood:
Jamaican dogwood can be found in capsule form, and as a tincture. Jamaican dogwood is harvested from the bark of the dogwood tree.
Do not use Jamaican dogwood if you are pregnant or nursing.
St. John's Wort:
St. John's wort is a yellow flower well known for its antiseptic as well as its anti-inflammatory benefits.
This plant has been used medicinally since the times of ancient Greece. Fresh buds and leaves of St. John's wort may be used for making teas and tinctures. The buds and leaves can be dried.
St. John's Wort Tea Recipe:
Add 2-3 teaspoons of dried St. John's wort
1 cup of boiling water
Add dried St. John's wort to boiling water. Reduce heat and simmer for ten minutes. Strain using a fine sieve. Two to three cups of this tea should be consumed per day.
To make a tincture for topical use, soak pureed leaves and flowers in olive oil for four to six weeks. This tincture may then be applied to the painful area. St. John's wort has very few side effects. Photosensitivity may be experienced by extremely sensitive people, so take care while out enjoying the sunshine!
Arnica may be another herb which you may wish to try. Arnica is also known as mountain tobacco and is related to the aster plant. Arnica also possesses anti-inflammatory as well as analgesic properties. Arnica is used externally to treat numerous musculoskeletal problems, including arthritis and sore muscles. To make an arnica tincture for external use, soak pureed flowers and the underground stem of arnica in olive oil for four to six weeks. Apply this oil to the painful area.
A combination of natural remedies may be the best solution for sciatica sufferers. Stretches along with exercise and herbal remedies can provide long lasting pain relief. Remember, if you are pregnant or nursing, consult a medical doctor before ingesting any medications.
Sources:
http://www.webmd.com/back-pain/guide/sciatica-symptoms
http://www.mayoclinic.org/diseases-conditions/sciatica/basics/lifestyle-home-remedies/con-20026478
---
The medical information on this site is provided as an information resource only, and is not to be used or relied on for any diagnostic or treatment purposes. This information is not intended to be patient education, does not create any patient-physician relationship, and should not be used as a substitute for professional diagnosis and treatment. Please consult your healthcare provider before making any healthcare decisions or for guidance about a specific medical condition. mentalscoop.com expressly disclaims responsibility, and shall have no liability, for any damages, loss, injury, or liability whatsoever suffered as a result of your reliance on the information contained in this site. mentalscoop.com does not endorse specifically any test, treatment, or procedure mentioned on the site.
By visiting this site you agree to the foregoing terms and conditions, which may from time to time be changed or supplemented by mentalscoop.com. If you do not agree to the foregoing terms and conditions, you should not enter this site.
---
Thanks for reading and be sure to share this info with your friends using the social share buttons below. Talking about social stuff, consider liking our Facebook page to keep up to date with our articles. Check out our other articles for more mental scoops!