How To Recondition And Re-Season Cast Iron Cookware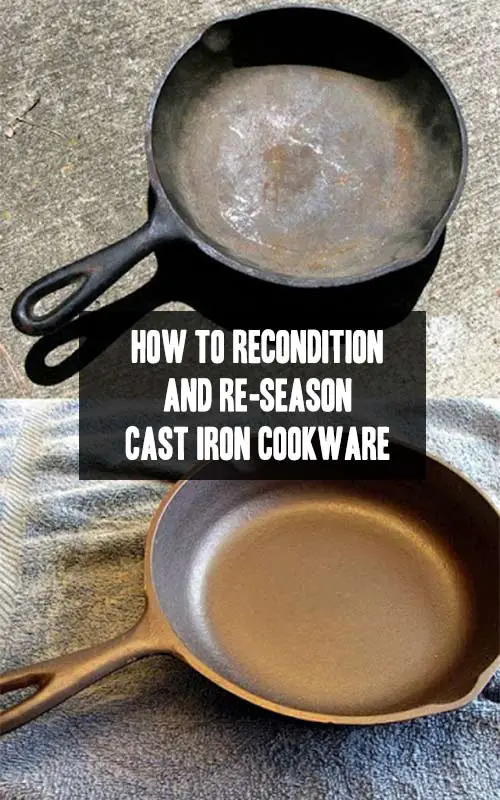 How many times have you been at a yard sale or thrift store and seen nasty, rusted cast-ironware?
You might wonder why someone bothered to even try to sell it or pass it on.  With eyebrows raised, you passed it by and thought to yourself that having cast iron someday *would* be nice.
After all, it heats evenly, never loses its coating like commercial non-stick surfaces and is pretty rugged. 
You could even build up your arm muscles while you cooked.  Some people say they hate cast iron because everything sticks on it – well, their experience has been with improperly seasoned pans.
If things stick – the pan has not been properly seasoned!  My purpose in this article is to walk you through the steps to re-season any old cast iron pan. 
As long as there are no nicks and cracks, no matter how much gunk or rust, you can get it like new!  I just did it for the first time this past fall and was amazed!
Before you know it you will have the best cookware again!
Mtman1849 from youtube has a great how to tutorial which shows you how to clean and recondition rusty cast iron pots and pans.
There were two different methods that he found for getting the rust off and after combining the two the results were amazing.
Tutorials:
More interesting articles you may be interested in reading:
5 Reasons You Should Be Cooking With Cast Iron
Over 400 Amazing Meals In A Jar Recipes
Two Amazing 100 Year Old Mead Recipes
Thanks for reading and be sure to share this info with your friends using the social share buttons below.
Talking about social stuff, consider liking our Facebook page to keep up to date with our articles.