20 Creative Cinder Block Projects To Make Your Home And Garden Awesome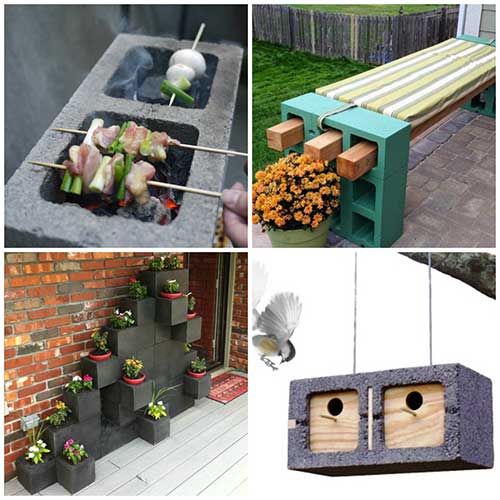 When you look at cinder block your eyes don't think "beautiful" but with a bit of imagination, you could transform cinder blocks into really cool outdoor space decor.
From art, landscaping, decor, and much more let's take a look at some of the unique ways of incorporating that mundane looking block into spectacular masterpieces.
Before you read on check out my other article, 20 Cheap and Awesome Landscaping Projects to Transform Any Garden to get some more cool ideas for your garden landscaping.
#1  A Table for One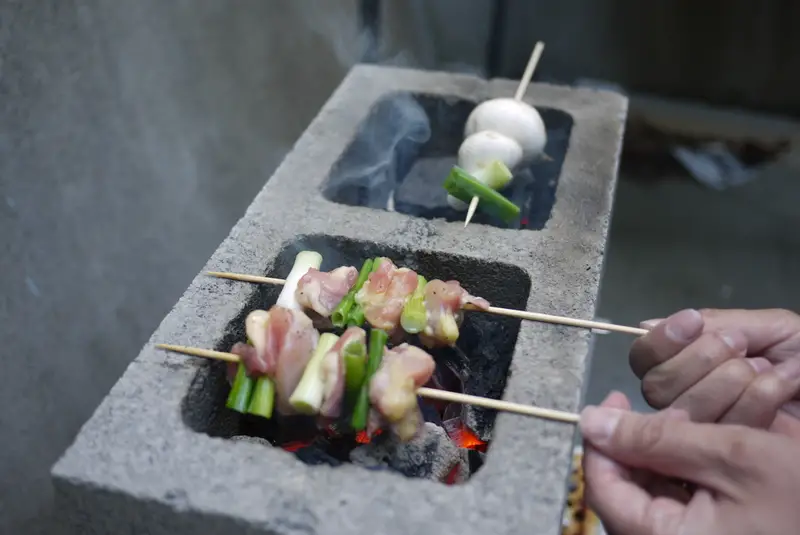 (Image Credit: yourhouseandgarden.com)
Imagine having a cookout with friends using an unconventional way fo grilling. Each person gets their personal grill to cook for themselves this way the host/hostess isn't killing themselves trying to be social while trying not to burn the food. Almost like being in the restaurant the melting pot but cheaper.
#2 Cinder Block Seating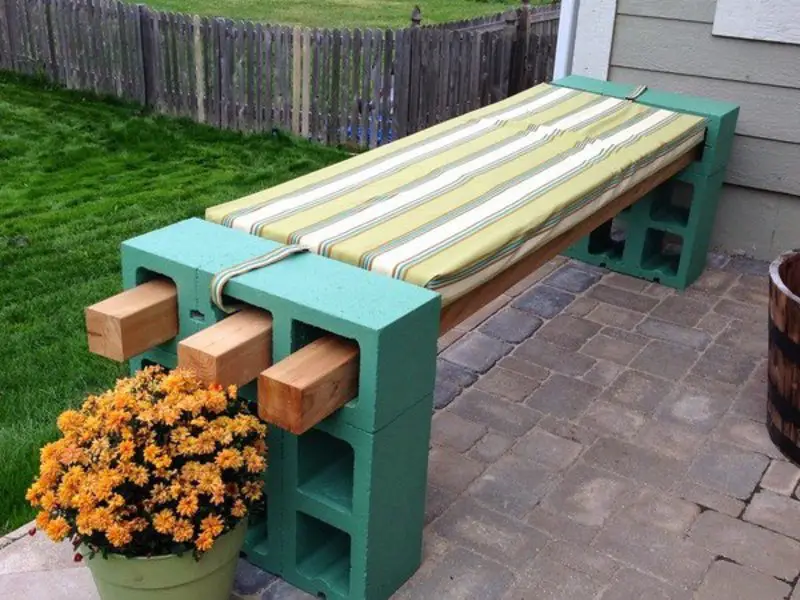 (Image Credit: minimalisti.com)
A beautiful bench made of cinder block and 4×4 cedar planks add in some padded upholstery, and you've got yourself a stunning outdoor seating space that looks like it was from a trendy home supply store.
#3 DIY Cinder Block BBQ Pit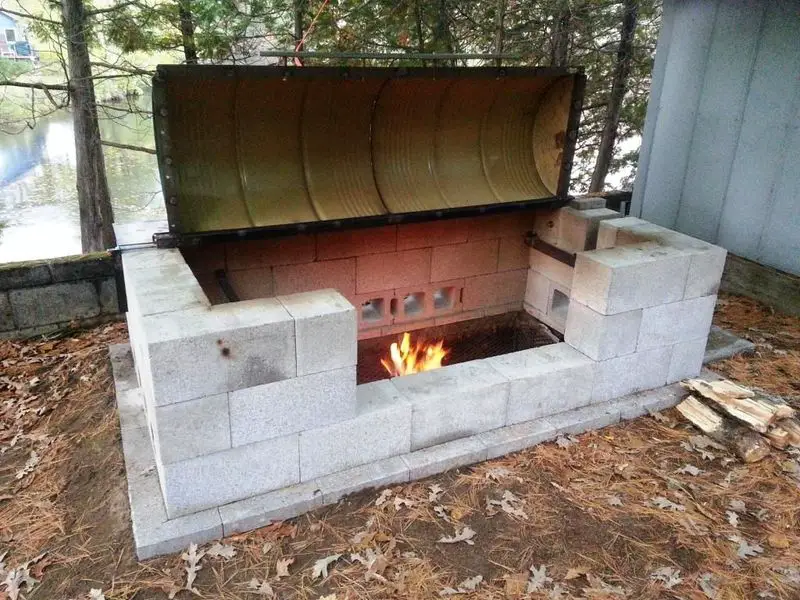 (Image Credit: roomdeagesign.com)
There is no limit on the designs that can come from utilizing cinder block into a DIY project so why not make a killer BBQ pit? The food would taste so much better if it were to be cooked off a grill with creativity and sweat behind it.
#4 A Castle of Thy Own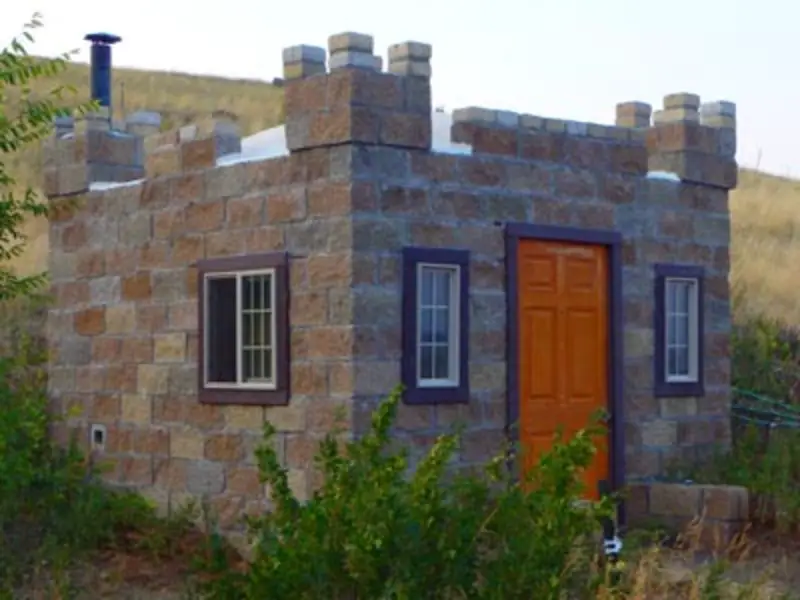 (Image Credit: hollowtop.com)
Build your kids their very own castle in the backyard. It may take more effort and time than the previous projects, but once finished, you'll be the parents kids will envy. Plus it would be awesome for bragging rights.
#5 Landscape with Cinder Style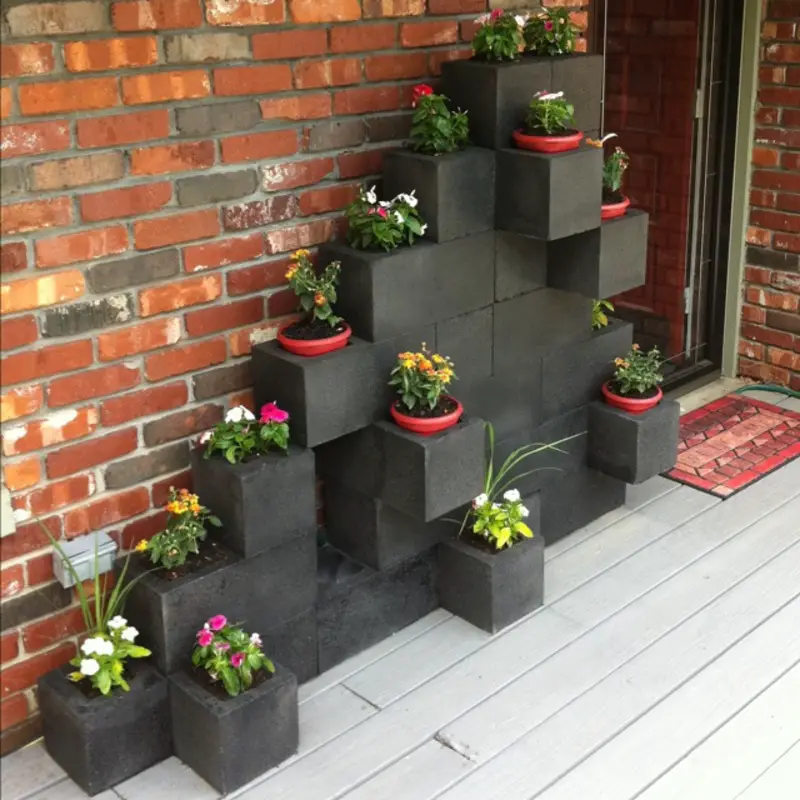 (Image Credit: mydesiredhome.com)
You can implement cinder blocks into your garden landscaping while also giving each plant their special needed attention to maintain its lifespan.
#6 Renovate the Birdhouse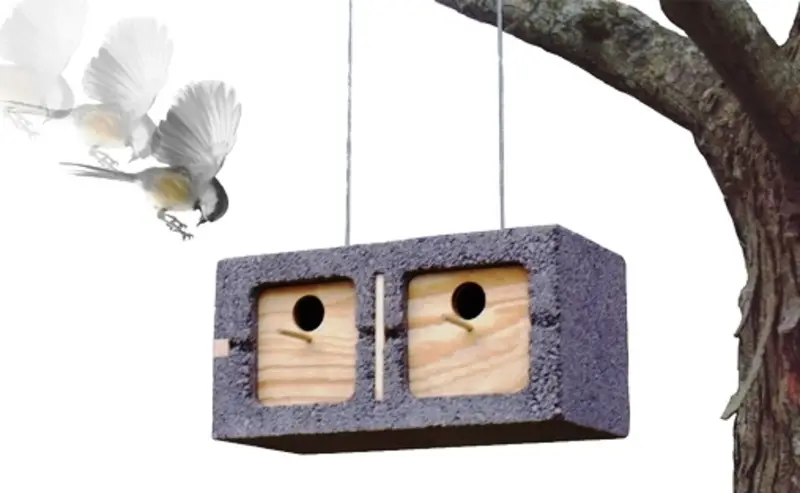 (Image Credit: thepetscentral.com)
Your tweeting neighbor (not the neighbor obsessed with Twitter) wants a sturdier home for the upcoming storm that is approaching. Would you be so kind to build his family a cinder block home?
#7 Wine Cellar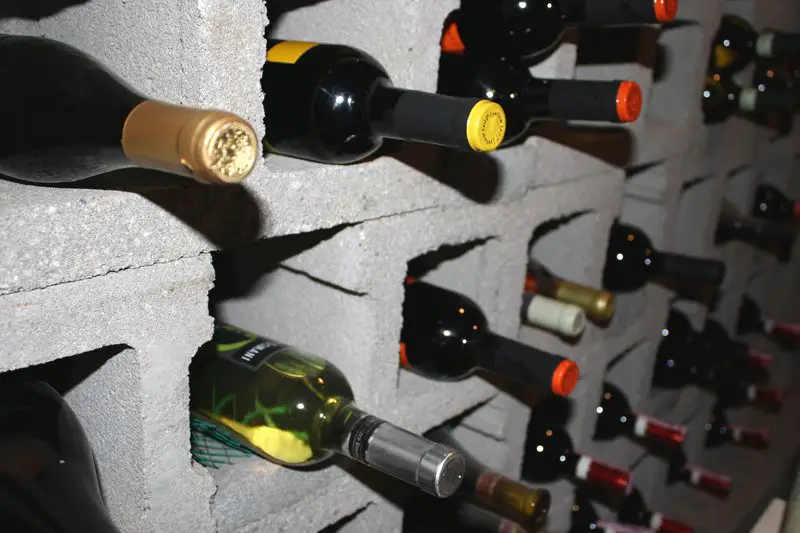 (Image Credit: homeedecor.com)
Store some cinder blocks in your basement and you've found yourself a wine cellar. However, I would recommend either adding some sort of padding inside or being extra cautious when placing the wine bottles inside each slot.
#8 Kids Sofa & Storage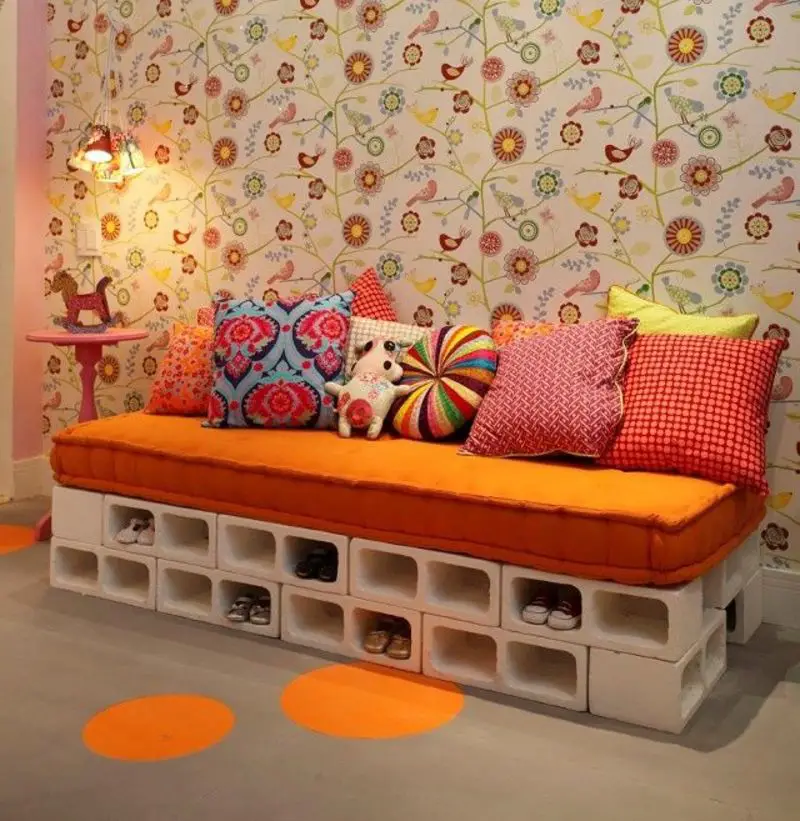 (Image Credit: icreativeideas.com)
An awesomely creative sofa for your child to enjoy made just for them and with an bonus of having a shoe storage compartment.
#9 Paint Your Planter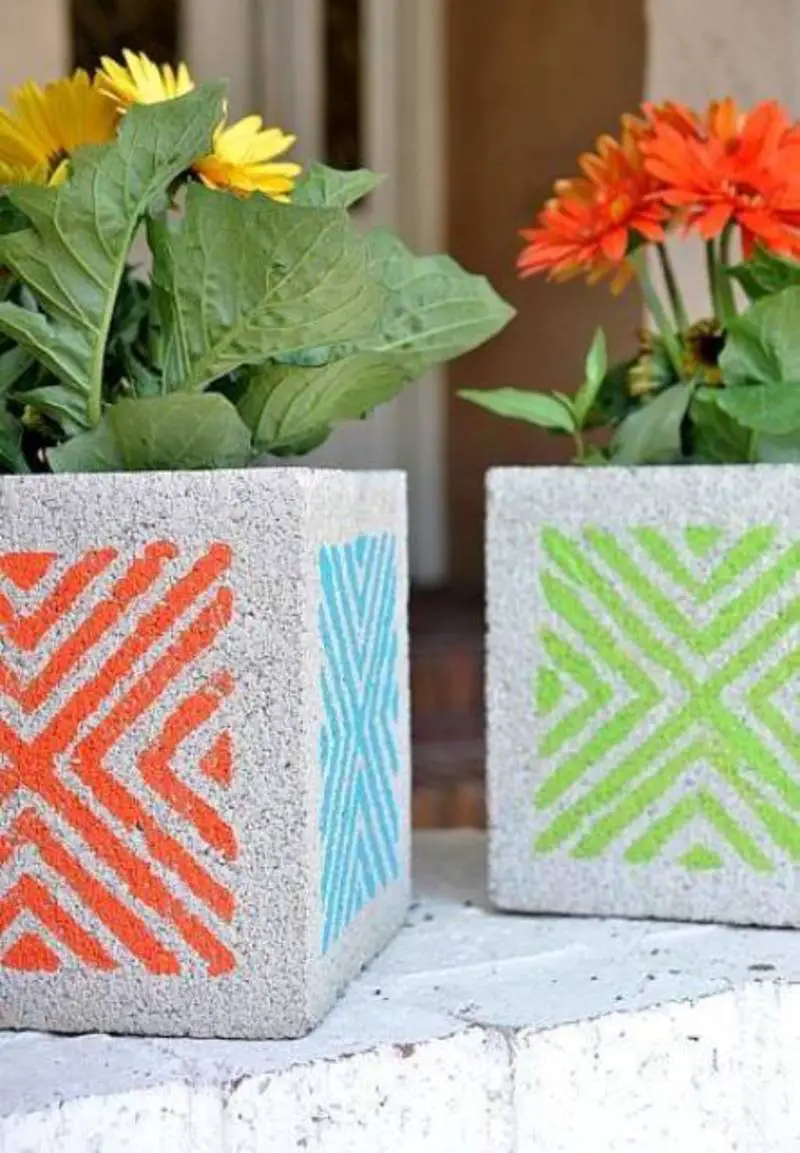 (Image Credit: siteforeverything.com)
Imagine all of the beautiful planters you can make for your garden to truly stand out. The designs can be infinite when you have a paint brush in your hand and plenty of cinder blocks at your disposal.
#10 Cinder Bed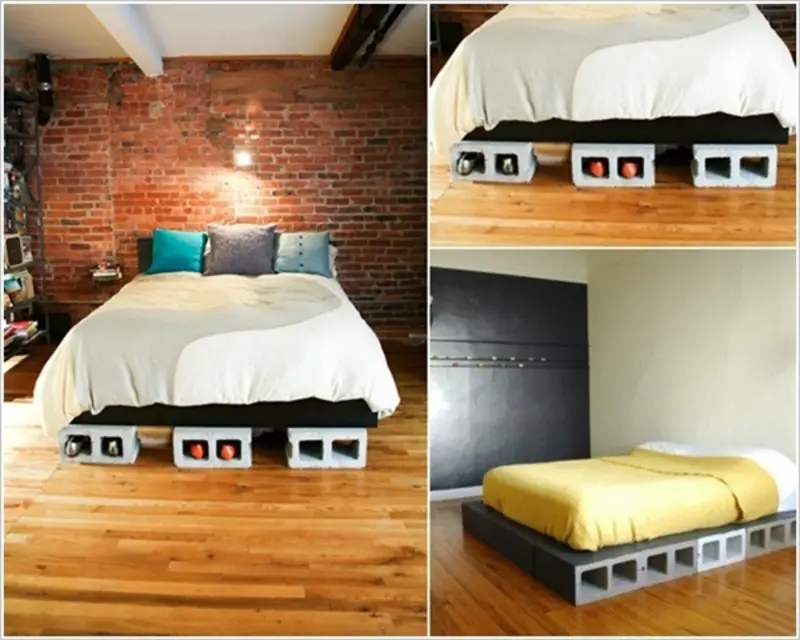 (Image Credit: fabartdiy.com)
Tired of using traditional bed legs? Put your boxspring on some cinder blocks and give your room a touch of uniqueness while saving some money on furniture plus added storage.
#11 Mosaic Planter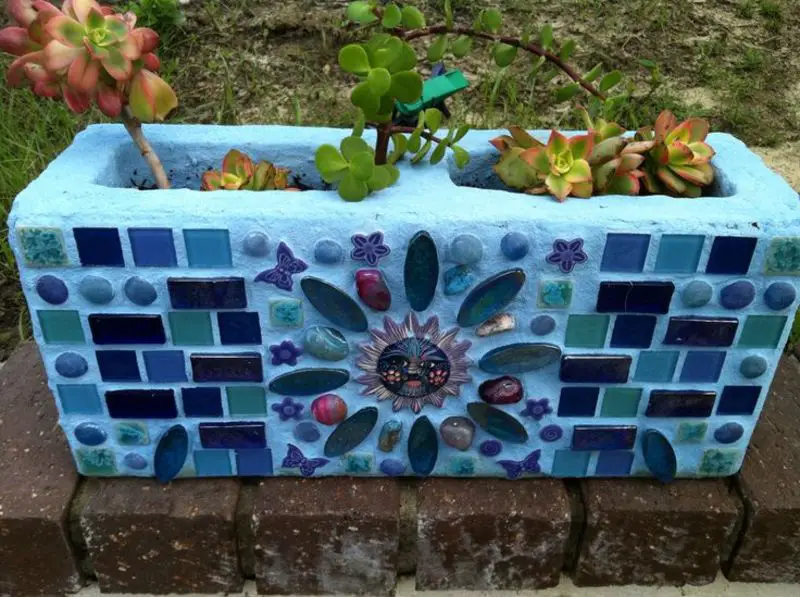 (Image Credit: fabartdiy.com)
Design a mundane looking cinder block with some artistic mosaics with colorful glass and stones that you have on-hand and watch a simple block come to life in gorgeous colors.
#12 Light It Up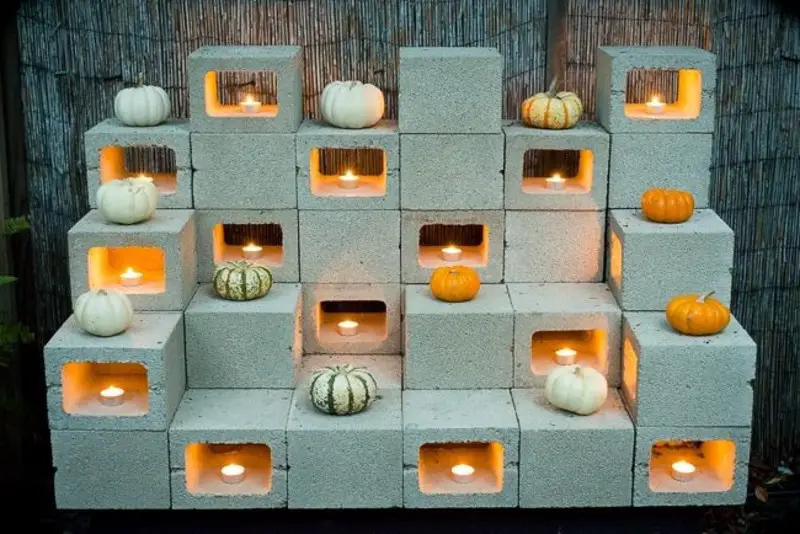 (Image Credit: galaxant.com)
Need some lighting for your garden or just some added ambiance for a nighttime social gathering? These tea light cinder blocks will be sure to deliver. Add some of your favorite garden sculptures to go with the lighting and you're good to go.
#13 Beautiful Plant Shelving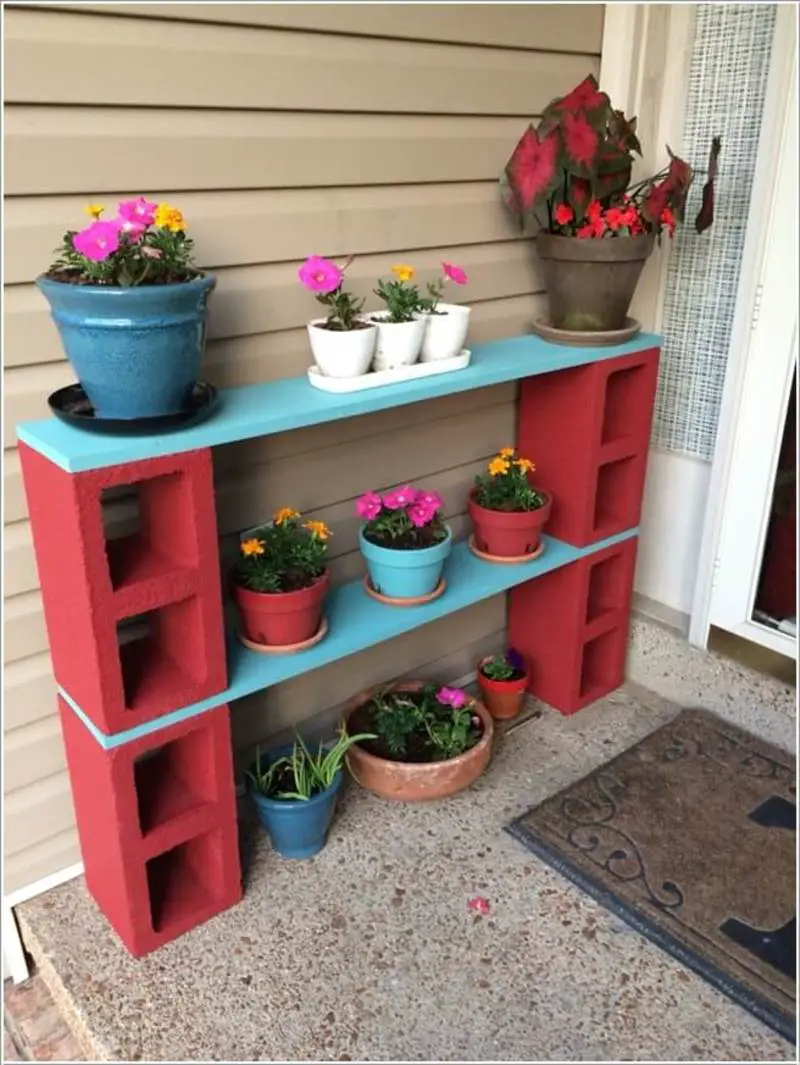 (Image Credit: mazinginteriordesign.com)
Grab some paint and a couple of wooden planks and you will have a gorgeous shelving for your equally beautiful plants.
#14 Cozy Porch Seating for One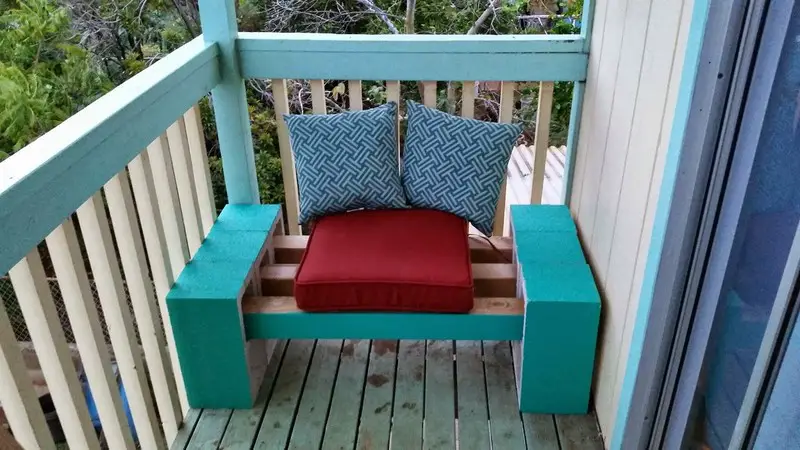 (Image Credit: iconhomedesign.com)
If you have a small patio space and would like to incorporate a unique seating area using cinder block, well, here you go. Grab three 4×4's, cushion, and a couple back pillows and enjoy your seating for one.
#15 Firewood Holder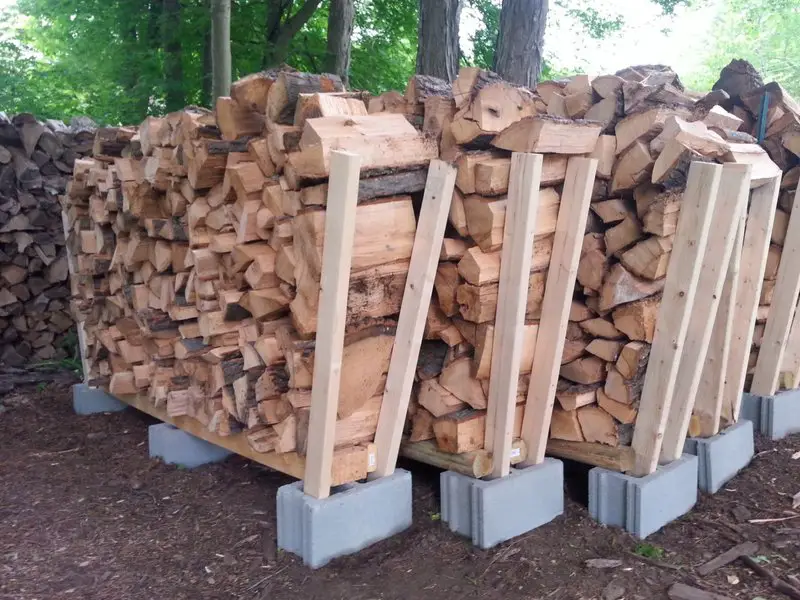 (Image Credit: hearth.com)
Organize all of your fireplace wood by creating a cinder block rack. Insert two 2×4's into each cinder and a thick piece of wood for the platform.
#16 Garden Bench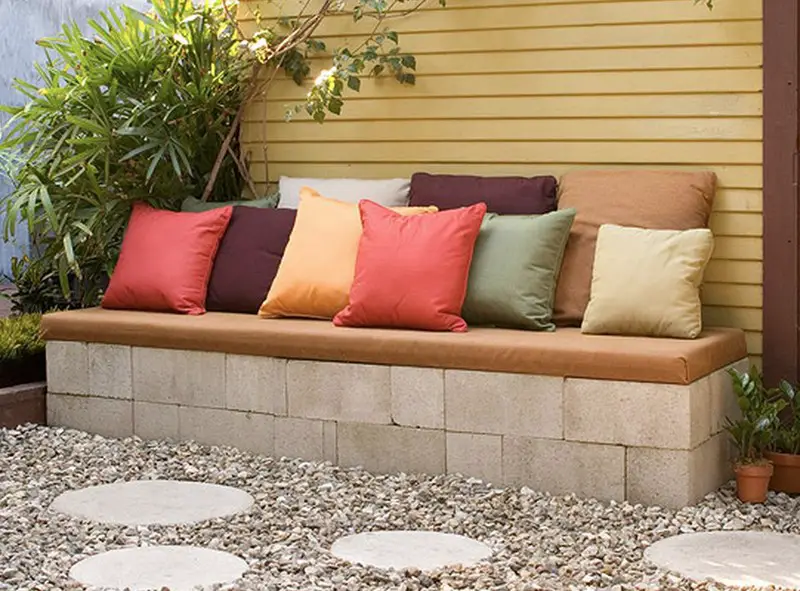 (Image Credit: iconhomedesign.com)
A stunning cinder block garden bench. Just add a long bench cushion and colorful throw pillows and you have a gorgeous seating area to sit on while admiring the garden.
#17 Wooden Bench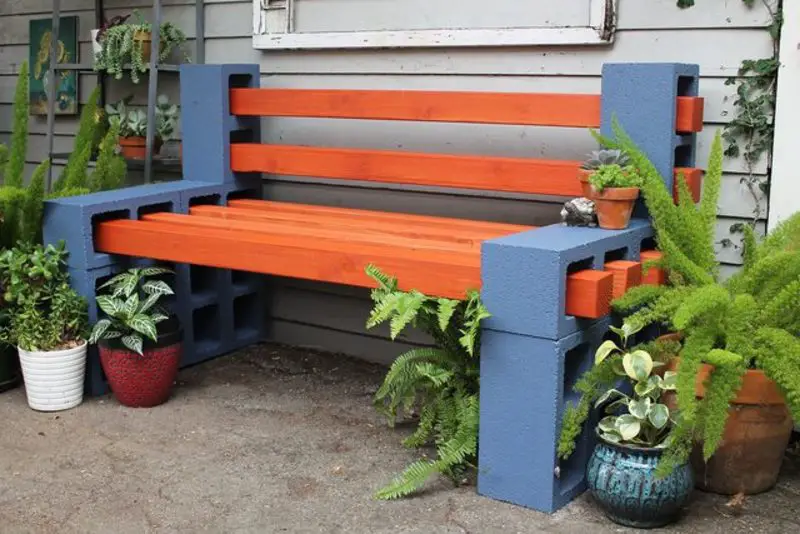 (Image Credit: thecameronteam.net)
Here we have a simple garden bench made with wood and a cinder block frame to add character to any backyard.
#18 Planter Bar Counter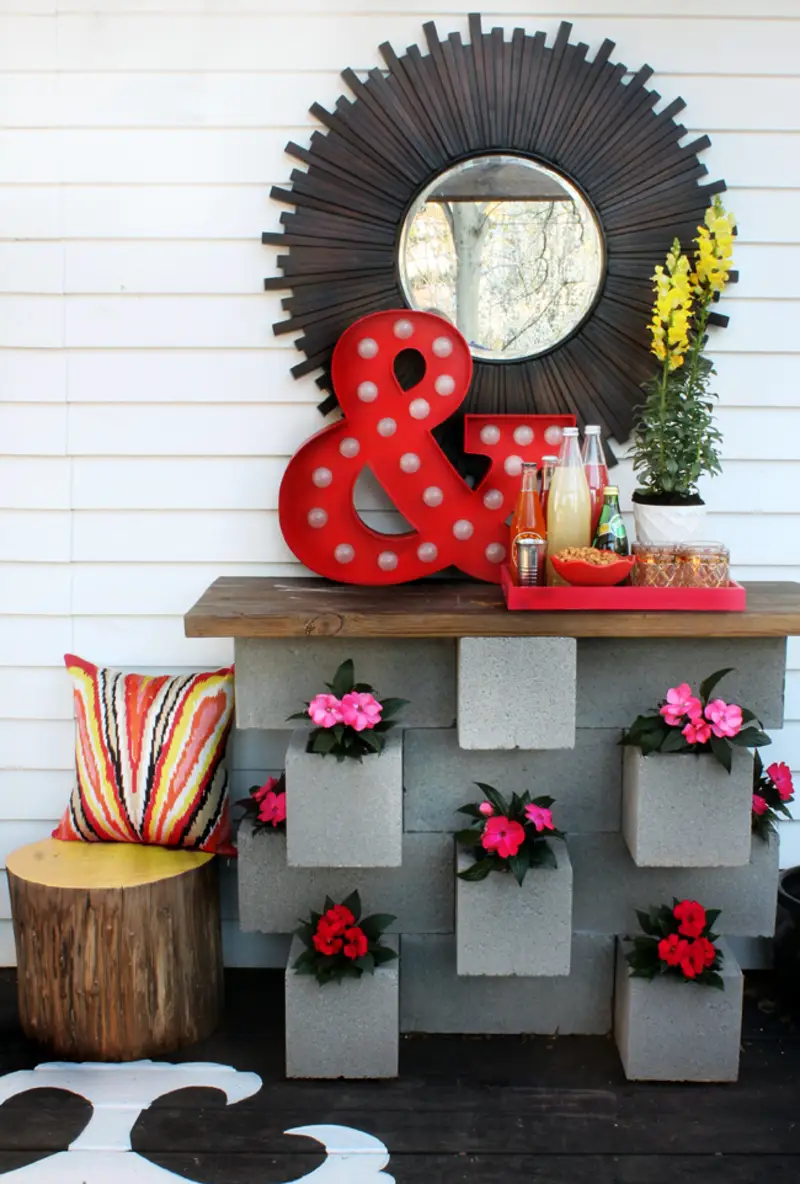 (Image Credit: homeyou.com)
Bar counter meets beautiful flower planter in this unique design utilizing cinder blocks.
#19 Firepit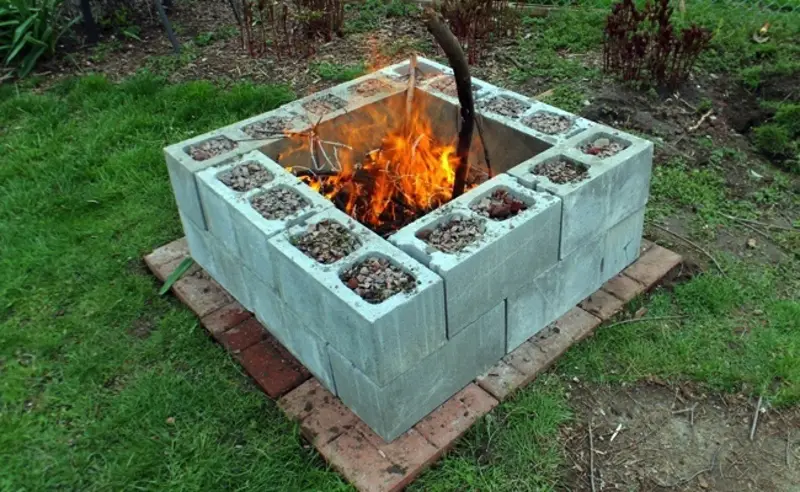 (Image Credit: bobvila.com)
No need to spend a great deal of money on a firepit when just a few dollars per cinder block brings you a strong DIY fire pit that will be easy to assemble.
#20 Entire Patio Set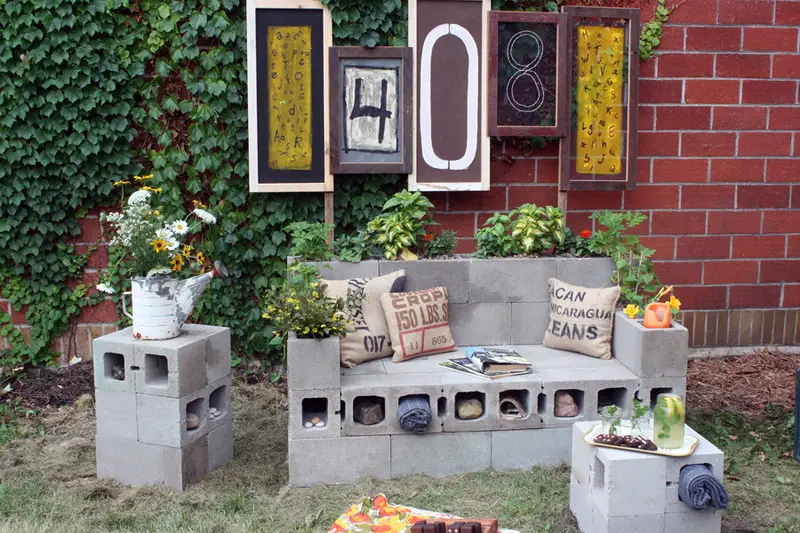 (Image Credit: borganic.net)
Here we have an entire patio set made up of cinder block. There is a sofa, end table, and a mini table all equipped with storage space. Throw in some rustic accents and plants and you've got a patio that looks amazing and cost nearly nothing to execute.
Before you leave… check out my other article, 20 Cheap and Awesome Landscaping Projects to Transform Any Garden to get some more cool ideas for your garden landscaping.
Thanks for reading and be sure to share this info with your friends using the social share buttons below. Talking about social stuff, consider liking our Facebook page to keep up to date with our articles. Check out our other articles for more mental scoops!