Check Your Change And Piggy Bank Right Now! You Could Be sitting On A Small Fortune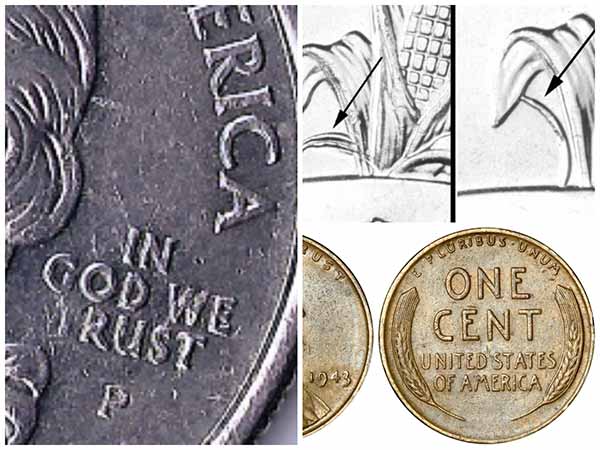 You may want to search the couch cushions and empty your pockets! Spare change is often overlooked, forgotten in the bottom of your purse or thrown on top of the bedroom dresser. However, according to various sources, these eight coins are worth more than their face value. Why not embark on your own treasure hunt?
The 2004 Wisconsin State Quarter
The quarters commemorating the fifty States rapidly became collectibles for many people. The 2004 Wisconsin State quarter is unique, having more than one variant. An inattentive employee may be the cause of these two variants which were minted at the Denver location. You may wish to grab a magnifying glass to examine these coins, as the anomalies are difficult to spot. The differences consist of extra leaves on a cornstalk. Some of these extra leaves are high on the stalk, while others are low. While these coins may not break the bank, according to inspirationalday.com some collectors have been known to pay as much as $1499.00 for these extra-leafy coins!
2005 Kansas State Quarter
The 2005 Kansas State quarter possesses a subtle flaw as well. It is not uncommon for dirt or grease to cause what is known as a "faint" strike. A faint strike of the die leaves an indistinct impression. This may be the reason why the first "T" in "In God We Trust" on the Kansas State quarter is so faint, leaving the phrase reading, "In God We Rust". While faint strikes are not uncommon, it is unusual for a faint strike to result in the creation of an entirely different word. These quarters have netted as much as $100.00.
1943 Penny
Copper and nickel were rare commodities during World War II due to America's war efforts. The 1943 penny was intended to be minted from zinc coated steel because of this shortage. However, a handful of pennies were minted from copper. Only forty of these rare gems are known to exist. In order to ascertain whether or not you have stumbled upon one of these extremely rare coins, check it with a magnet. A steel penny will stick to the magnet, while copper will not. In 2012 a 1943 copper penny sold for a cool $1 million dollars!
1948-1963 Benjamin Franklin Half-Dollar Coin
The half-dollar coin was widely panned by the public. As a result, half-dollar coins are no longer in circulation. Do not be dismayed however should you be handed a 1948-1963 Benjamin Franklin half-dollar coin in your change. These fifty cent pieces were minted from ninety percent silver! This awkward coin could bring in up to $275.00!
See more coins on page 2