Awesome Fun Science Experiments for Kids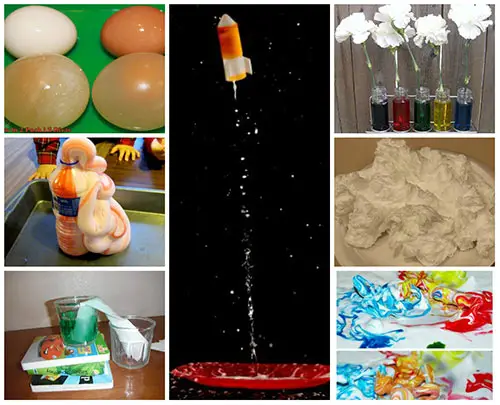 Kids get bored easily. That is a fact. My kids get bored so easily the only thing that I can do to keep them entertained is by blowing their minds with experiments. My kids are 13, 11 and 14 months old. I am a geek when it comes to science, I love the subject and anything science related interests me and keeps the old cogs turning, so to speak.
I went hunting for some science projects for my kids and they were all that good I wanted to compile a list of kid friendly science experiments that I think your kids will enjoy too, no matter what the age.
1. IVORY SOAP EXPLOSION
Mad Science Week brought the idea to the forefront of my mind & I figured it was a great time to try it and see what happens. I am so glad I did! The ivory soap produced quite an unexpected & amazing reaction! See the tutorial here
2. ELEPHANT TOOTHPASTE
This exciting science experiment works great in a discussion on reactions, as a demonstration, or as an actual experiment. To use it as an experiment, perform it once with your child, then ask your child what might happen if you changed the amounts or left out an ingredient. See the tutorial here
3. DISSOLVING EGG SHELL
This experiment is simple, it involves a lot of observation but the results are really to watch and the finale was lots of messy fun. (This is one of my favorite experiments for my kids)
See the tutorial here
4. RAINBOW CARNATIONS
You will need glass jars/containers, food coloring and carnations. Just add food coloring to each jar and top with water. Place one carnation in each jar and let the food coloring do it's thing. Wait 24 hours then let your kids see, wait another 24 hours and their minds will be blown! See the tutorial here
See 4 more kids experiments on the next page