10 Yummy Dandelion Recipes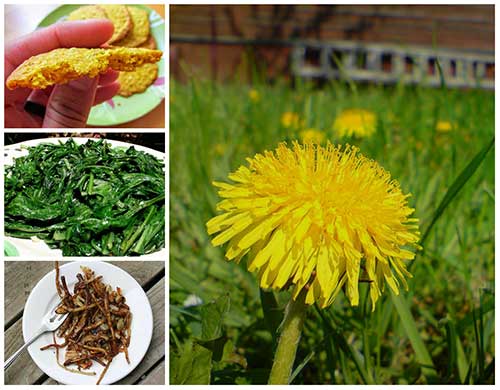 Spring is always my favorite time of the year, it brings the sunshine and warmer weather, also it brings along my favorite sounds in the world, the chirping of birds, I love to sit with the window open on a spring morning and feel the cool of the fresh air and the birds flying and chirping around in the yard.
Springtime also means plants, trees, bushes and the reason I am writing this article, dandelions.
Dandelions are one of the first plants to show their color in the spring and with good reason, they are also the first food for the honey bees and pollination bugs.
There are 2 species of dandelion,  T. officinale and T. erythrospermum, both are fully edible. From flower to root.
A dandelion is a perennial plant, its leaves will grow back if the taproot is left intact.
To make leaves more palatable, they are often blanched to remove bitterness, or sautéed in the same way as spinach.
10 dandelion recipes to test out:
Dandelion Root Coffee Recipe
Put 6 tablespoons of dandelion coffee grinds into 500ml of boiling water and leave to steep for 30 minutes.
Strain into a saucepan and reheat to desired temperature. Serve with milk and honey if so desired. – Recipe here
Fried Dandelion Root
Dandelions are more nutritious than spinach and broccoli. All parts of the plant are edible, and the leaves are high in potassium, iron and calcium.
The plant has a deep taproot that can be anywhere from 6 inches to 3 feet long – Recipe here
Dandelion Root Herbal Tea
Dandelion root brings a whole array of powerful healing properties to your mug, and the flavor is so rich, robust, and coffee-like that you're sure to have a smile on your face no matter how early in the morning it may be. – Recipe here
Dandelion Greens Salad
Alone, a pile of dandelion greens can be brutally bitter, but aargersi has devised the perfect strategy for taming them into submission: bacon (obviously), maple and leek-sweetened vinaigrette, and a luscious poached egg.
The rich yolk that clings to the leaves softens any lingering rough edges and wins over the skeptics. We think this is the perfect brunch salad, but we plan to sneak it in at lunch and dinner too.
And now we're going to have a hard time eating dandelion greens any other way. – Recipe here
Sautéed Dandelion Greens
Cicoria is a standard cooked green on menus all over Italy—it has a pleasing bitterness that's offset by the richness of the oil it's sautéed in.
Sadly, it's hard to find that kind of chicory in America, but dandelion greens make a nice substitute. – Recipe here
Dandelion Pumpkin Seed Pesto
People can be protective about their pesto recipes and approaches. A little extra garlic or the special way they grind down the pesto?
It's the magic touch. This is largely because pesto is so adaptable: you can create a signature pesto of your own using different nuts, greens, cheeses and spices. And that is exactly what we have here. – Recipe here
Dandelion Flower Cookies
Dandelion flowers aren't just pretty. They are also extremely nutritious food and have none of the bitterness of dandelion leaves if you cut off the green bracts at the base of the flower cluster.  –Recipe here
How to Make Dandelion Wine
What do you do when you're overrun with dandelions? Eat them (and make some wine)! – Recipe here
Dandelion Syrup
Over 2 days, I gathered about 125 flowers. It sounds way more daunting than it really is; it went by very quickly actually. With those flowers I made delicious and very tasty dandelion syrup. – Recipe here
Dandelion Jelly
Dandelion Jelly was a fun project to try out. I was a little leery as to how it would taste so I only made one batch the first time. It tastes a lot like honey. – Recipe here
Thanks for reading and be sure to share this info with your friends using the social share buttons below. Talking about social stuff, consider liking our Facebook page to keep up to date with our articles. Check out our other articles for more mental scoops!