10 Top Ornamental Grasses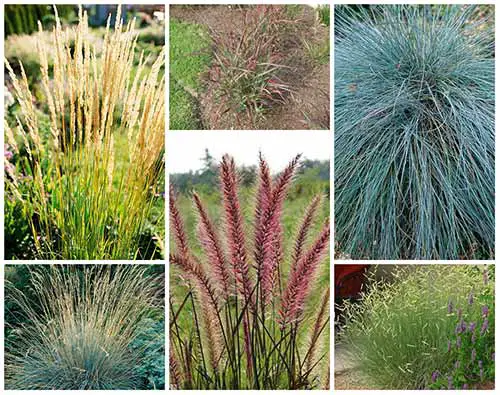 Ornamental Grasses are a large family of beautiful perennial plants that add texture, color and movement to the garden.
Ornamental grasses, like conifers and other evergreens, also provide interest in the fall and winter landscape, especially when backlit by morning or afternoon sun.
When the flowers of summer are only a memory, you'll find delight looking out on frosted ornamental grass spikes in the early light of a cold winter's day.
Below you will see the top 10 ornamental grasses to grow:
1. Karley Rose Fountain Grass
One of the most popular ornamental grasses, rose fountain grass add rich rosy-pink color to the summer landscape.
The 12-inch plumes have a fuzzy, soft consistency and seem to float above spinach-green stalks 2 feet tall. Fountain grass is perfect as a specimen or accent planting. Get seeds here
2. Pine Muhly Grass
Muhly Grass, sometimes called Pink Muhly, is a 3′ to 5′ tall native perennial warm season bunch grass.
In late summer the clumps produce an airy cloud-like inflorescence of tiny pink flowers and its ornamental qualities make it a great garden plant.
It prefers dry to medium soils in full sun, but will tolerate some poorly drained soil in partial shade.
The broad canopy and clump habit make it a valuable grass for wildlife cover. Get seeds here
3. Mexican Feather Grass
Mexican Feather Grass (Stipa tenuissima) – Grown from Mexican Feather Grass seeds, this beautiful mounded ornamental grass with needle-like flexible leaves forms dense, bright green clumps.
The flowers are silky awns that appear in June and change from green to gold as they mature.
These ornamental grasses are especially striking when planted in masses, but they also can be grown in containers with nice results. Get seeds here
4. Windwalker Big Bluestem Grass
Big Bluestem grass seeds can produce a versatile and attractive grass. It is a native grass and is a warm season perennial grass which has an attractive reddish-copper color in fall and can help create a beautiful landscape.
In fact, some use it specifically as an ornamental grass.
It blooms from June through September.
In late summer, purplish flower spikes form. Big Bluestem is the most prevalent and widely distributed of all prairie grasses which can grow 4 to 7 feet tall. Get seeds here
5. Blonde Ambition Blue Grama Grass
Attractive ornamental grass that grows in tufts. Feathery blooms rest atop tall, strong stems.
Use to landscape yards where drought tolerant plants are needed. Easy to grow and requires little maintenance. These are probably my favorite grass out of all them them. Get seeds here
6. Feather Reedgrass
The most popular ornamental grass, feather reedgrass offers a distinct upright habit that looks fantastic all winter long.
Like many grasses, this tough plant tolerates a wide range of conditions. Get seeds here
7. Maiden Hair Grass
The clumps are 6ft by 6 ft and makes a beautiful sound when the wind blows through it.
The beauty continues with the feathery seed heads that shimmer in the sunlight and later curl into an interesting shape. Get seeds here
8. Sea Urchin Blue Fescue
With a height and spread of 30cm and 60cm, this lovely sea green perennial grass won't take over the garden, and is a lovely addition to rockeries or borders.
Also looks great as a dot plant in pots! Flowers appear on spikes of blue green, often tinged with pink. Fully hardy to -15°C. Get seeds here
9. Blue Oatgrass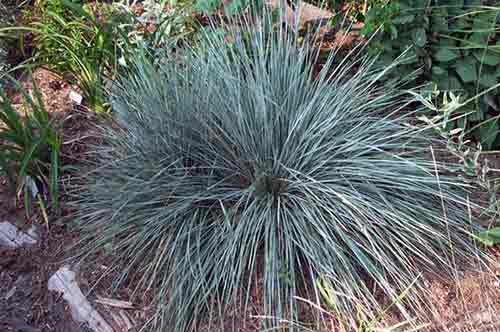 It's tough to beat blue oatgrass for a low-care plant with steel-blue color. It also has a wonderful mounded habit and won't spread and take over your garden.
Does well in full sun and well-drained soil. Grows 4 feet tall. Zones: 4-9.
10. Shenandoah Switch Grass
Shenandoah is a selection of our native prairie switchgrass grown for its burgundy colored foliage and pinkish flower spikes.
This grass has especially nice fall color with the grass blades tinted with red and orange. Drought resistant/drought tolerant plant (xeric). Get seeds here
Thanks for reading and be sure to share this info with your friends using the social share buttons below. Talking about social stuff, please consider liking our Facebook page to keep up to date with our articles. Check out our other articles for more mental scoops!