How To Make Your Own Food-Safe Wood Sealant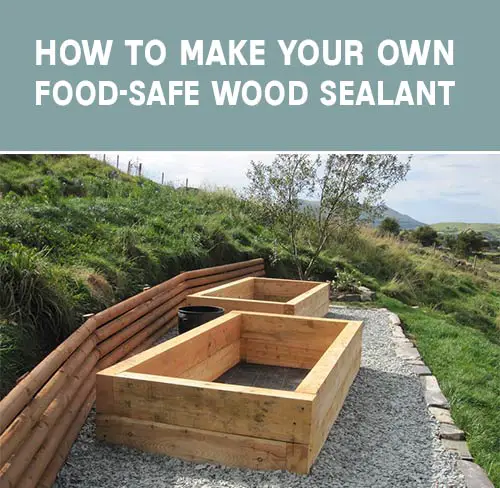 Making your own food-safe wood sealant is easy, cheap and best of all… it is  all natural with NO chemicals at all.
Over the past few years, my husband and I have sought ways to veer away from potentially dangerous chemicals and opt for more natural and safer alternatives.
One really useful thing we've done is made our own wood sealant. It all started when my husband built us some raised garden beds and I loathed the idea of harmful chemicals potentially leaching themselves into our home-grown organic fruits and veggies, so he started making this sealant to put my mind at ease.
Since then, we've not only used it on our garden beds, but also on a shower bench that my husband built to put in our stall shower.
This sealant has proven to me that it is not only safe, but incredibly effective at repelling water.
So here's the recipe:
Melt together a roughly 3:1 ratio of beeswax and any oil of your choice. We choose to use coconut oil because it won't discolor the wood like an olive oil might. Bonus: coconut oil smells really good.
After mixing together the melted beeswax and oil, pour them into a heat-safe container for storage (we use a quart-sized mason jar) and let cool. As a side note, we buy our beeswax in a big block from Whole Foods and have found that using a screwdriver and a hammer to roughly "chisel" off a chunk of wax really saves your kitchen knives.
When you're ready to treat your wood, gather your sealant, a spoon, and a rag or paper towels. If you made your sealant using coconut oil, I recommend letting it sit in the sun for a little while to start softening and/or melting the oil so it'll spread easier.
Spoon out some sealant onto your wood and start buffing it in; repeat until the entire area is covered.
I recommend reapplying it annually, especially if it's used on an outdoor project that will have to withstand the elements. (Extra bonus: if the wood sealant is used on an outdoor surface, the heat from the sun will melt it and cause it to seep even further into the wood, thus causing a deeper seal.)
There you go, a super-easy and safe wood sealer to complete your next project!
Thanks for reading and be sure to share this info with your friends using the social share buttons below. Talking about social stuff, consider liking our Facebook page to keep up to date with our articles. Check out our other articles for more mental scoops!