Grow this stunning plant this year…
Prairie Smoke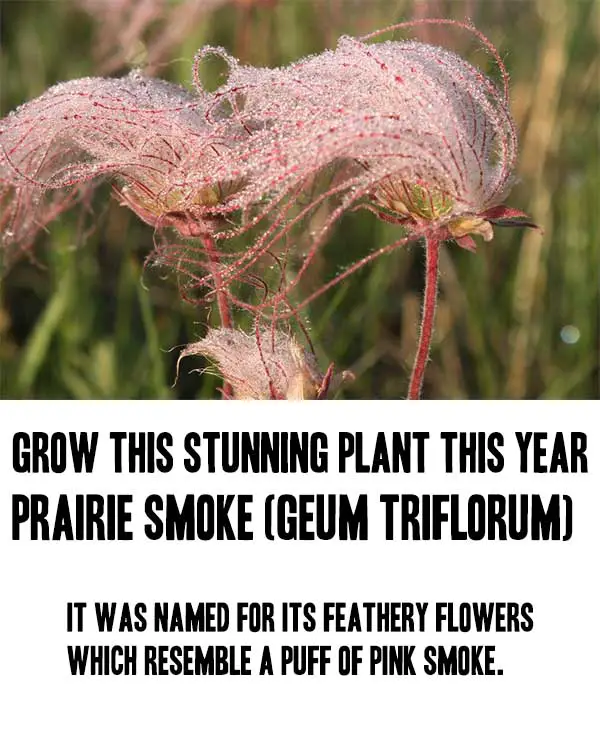 Are you looking for something out of this world to grow in your garden or as a showpiece? Well have I got something that will blow your imagination and maybe make you the talk of the town.
Let me introduce to you the gorgeous plant called Prairie Smoke or Geum Triflorum. As you can see, it was named for its feathery flowers which resemble a puff of pink smoke.
Prairie smoke has pinnately divided leaves with 7–17 primary leaflets; there are also a few smaller secondary leaflets inserted between some of the primary leaflets. They are arranged in a rosette at ground level and are semi-evergreen: some basal leaves remain over the winter and often turn reddish purple
Buy Prairie Smoke seeds
Prairie Smoke Seeds – 25 Seeds to Grow – Made in USA, Ships from Iowa. Rare and Hard to Find Geum triflorum Seeds
More interesting articles you may be interested in reading:
How To Remove A Tree Stump Painlessly
You Can Get Candy Cane Flowers That Will Get You In The Mood For The Holidays
Fluffy Miniature Cows Are SO CUTE and They Make GREAT PETS.
Thanks for reading and be sure to share this info with your friends using the social share buttons below.
Talking about social stuff, consider liking our Facebook page to keep up to date with our articles. Check out our other articles for more mental scoops!