Clever Storage Solutions That May Just Change Your Life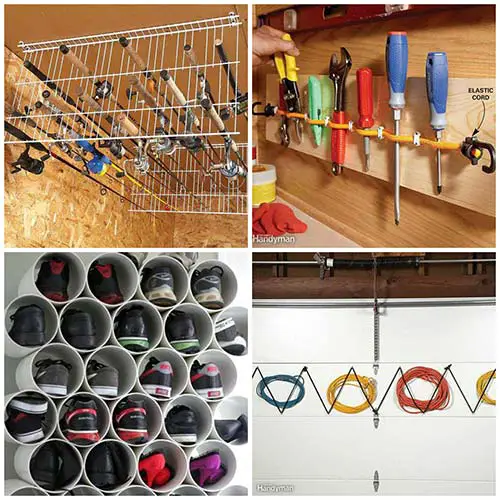 Having storage is high up on every homeowners list. The trouble with storage is sometimes you just don't have it, even in big houses the layout of the house is just not storage friendly. I live in a 3ooo sqft home, sounds big doesn't it? well, while that is correct, the average size of an American home is 2600 sqft and storage is always an issue unless you have a custom built home with storage in mind.
I scoured the internet and found some amazing storage solutions that may just change your life. Check them out below. If you have more ideas and would like to see them on this article shoot us a message and we will be glad to check it out and see about adding it to this awesome list.
Gutter Bins
Here are a couple of clever ways to use leftover gutter parts. Build small bins with the scrap gutter lengths, end caps and corner pieces. Mount the bins to a wall or workbench edge to hold parts and tools or serve as a dustbin. Or, screw downspout sections to a board and mount it on the wall to store wood dowels, bar stock and other long, thin items.
Elastic-Cord Tool Holder
Use elastic cords to make a portable tool organizer for chisels and other hand tools. Fasten one end of the cord to a 1×8 with an electrical staple, lay the cord straight without stretching it, then staple the other end. Add staples every 3 in. to create holders, leaving the staples just loose enough so the cord can still move. Then fasten the 1×8 to the wall.
Fishing Rod Storage
This is for all you fishing addicts out there. When the season ends and the gear comes out of the truck, where do you store your rods? You can buy a fancy storage rack or make one of your own. But either way, you're giving up precious wall space until spring. Here's a quick solution: Screw short sections of wire shelving to your ceiling. If the handles don't fit, just clip out some of the wire with bolt cutters. Your rods will be safely out of the way until your next fishing trip.
Ball Storage
This genius storage solution allows you to easily access your ball collection, and it's a cinch to put together. With a few scrap pieces of 2×4's and bungee cords you will have a lot of storage for a lot of balls.
Rolling Storage Crates
These crates roll out on casters and maximize the storage space under the day bed. Each of the four crates extends the full depth of the day bed. To fit under the day bed, the crate part is just shy of 8″ tall (under 10″ with casters on), but that is plenty deep to hold loads of toys. Get the tutorial here
See more clever storage solutions on the next page