Classic TV Commercials From The 50's and 60's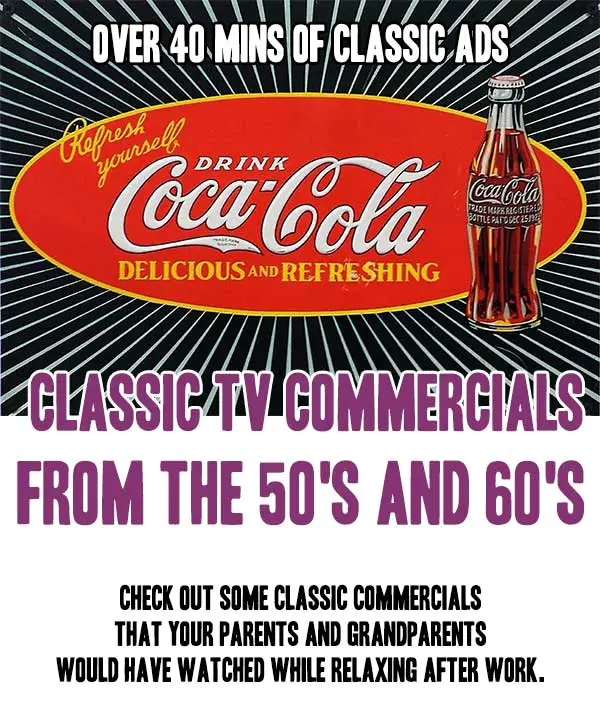 I have often dreamed of going back in time to the '50s and '60s. Mostly the late 50's. My grandma and her friends grew up then and they also wish they could go back, to a time which was simpler, mostly safer and the food was generally better tasting!
I am already digressing but recently I started watching a show on Hulu, it is called 11.22.63. In a nutshell, it is about a high school teacher who travels back in time to prevent John F. Kennedy's assassination.
Anyway, when he travels back in time he always gets transported back to September 9, 1958.
In 1958, the show shows him walking down the streets, people seemed happy, dressed well and everything was clean, safe, and cheap!
It is a good show, so I highly recommend watching it if you have Hulu or time.
Classic TV Commercials of the 50's and 60's
While trying to build a time travel machine I decided to check out some 50's and 60's commercials that I probably never saw before.
A lot of the commercials back then were about smoking and cleaning products.
I can safely say one thing, some of these commercials would not go down well in this day and age.
Check out some classic commercials that your parents and grandparents would have watched while relaxing after work.
Coke Ad
The First Barbie Ad circa 1959
1959 Kodak Christmas Commercial
Slinky Ad
60's Mustang Ad
60's Avon Ad
I hope that this little trip back in time was fun, enjoyable and if you're lucky to be old enough, brought back some good memories of a time back when!
More interesting articles you may be interested in reading:
How To Remove A Tree Stump Painlessly
You Can Get Candy Cane Flowers That Will Get You In The Mood For The Holidays
Fluffy Miniature Cows Are SO CUTE and They Make GREAT PETS.
Thanks for reading and be sure to share this info with your friends using the social share buttons below.
Talking about social stuff, consider liking our Facebook page to keep up to date with our articles. Check out our other articles for more mental scoops!