10 Solar Heating Projects For Heating Your Home And Water Over Winter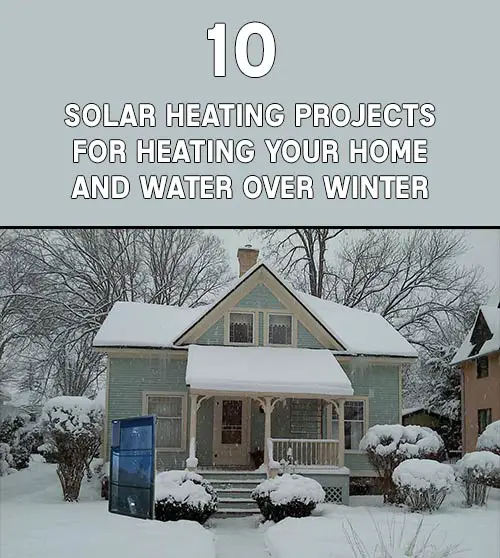 Being able to produce your own FREE heat in the winter can literally save you hundreds of dollars a month.
If you are looking to be more self reliant then these 10 awesome projects are definitely for you.
How many people can say they produce their own heat and hot water for free. I don't know anyone who does.
I hope these projects can help you all in some way, shape or form. Remember you can always scale up and down these projects and make them fit your needs.
For me, i wouldn't need a whole lot of hot water so I would use less piping and probably make it half the size.
Window Mounted Solar Hot Air Furnace
I present to you a product aimed at lowering your winter heating bill and carbon footprint by generating heat for free using the power of the sun! As an added bonus, this collector does not require electricity or fans or forced air of any kind. Tutorial here
Hydronic Solar Thermal System for Winter Space Heating
The heart of the system is an array of flat panel solar thermal collectors that heat up water when the sun is shining on them. The heated water is circulated through pex radiant in-floor heating loops underneath my kitchen floor. The result is 3000 to 4500 watts of free heat delivered to the inside of my home during sunny periods. Tutorial here
Very Cheap and Easy Solar Heater
The unit takes one person two days to construct, one day to install, and costs under $100. The temperature inside the unit easily reaches 160 degrees Fahrenheit on a 50-degree day, and can be blown into the house using a fan that pulls less electricity than a light bulb. Tutorial here
Solar Window Inserts
Free heat with minimal investment. Having a serious interest in renewable energy, I recently got the urge to try and create a solar insert that would simply slide into my existing window casings to help with the heating. Tutorial here
DIY Solar Window Box
This design uses solar fans to move the heat into the room so it's totally off grid and will work during a power outage. Because it is attached to the window it can also be closed by shutting the window and keep the heat inside the unit for off grid solar cooking. Tutorial here
Solar Thermal Water Heater For Less Than Five Dollars
This is V2 of a project. This design is more efficient and uses all reclaimed materials making this project almost free to complete. This solar thermal water heater works well and works fast. Even in the winter this beat will get you piping hot water (presuming the sun is out) Tutorial here
DIY Solar Thermal – Hawaii Addition
Aloha! This project is super simple and uses readily available materials, it's the kind of things that could easily be scaled up to meet lots of hot water needs.  Warning: The water comes out scalding hot! This would be a great project to help with hot water over the winter time too. Tutorial here
Almost Free Solar Hot Air Collector
This project is made from old light fixtures! You can pick up these fixtures anywhere. If you want to buy new go ahead but look on craigslist for free or cheap ones. Free Heat. No Fuel Needed. Renewable. Cost effective. Green. Recycled. Tutorial here
How To Build Your Own Soda Can Solar Heater
It won't heat your whole house, but it will do a pretty good job keeping your garage, greenhouse, or other small area warm.This is a perfect DIY project for anyone who wants to save a little money on their heating bill. Tutorial here
How To Build A Portable Solar Water Heater
Most of us have — at one time or another — longed for the luxury of a hot shower while on the road or trail. Well, there's no need to yearn any longer, because I've come up with a portable solar water heater that will cost you less than $10 to build. Tutorial Here
Thanks for reading and be sure to share this info with your friends using the social share buttons below. Talking about social stuff, consider liking our Facebook page to keep up to date with our articles. Check out our other articles for more mental scoops!