German Sauerbraten Recipe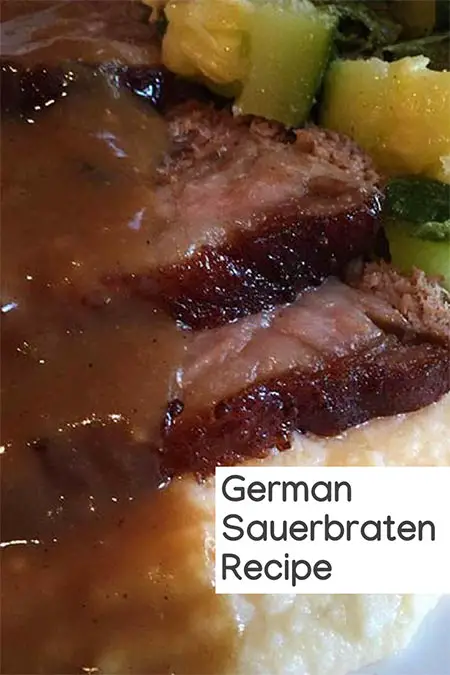 I have family back in Germany and when we used to visit a long time ago, my great Aunt used to make this recipe on a sunday, I guess it's there version of a sunday roast. I have only personally made this recipe 3 times in my lifetime.
I make it for our family gatherings we have every 5 years, each time the meal is a huge success. I am happy that my aunt passed down this recipe to us and I can share it to you!
I am sure you are wondering what "Sauerbraten" is. I for the longest time had no idea either. I still can't tell you so I went to Wikipedia.
HERE IS WHAT WIKIPEDIA SAYS ABOUT SAUERBRATEN:
Sauerbraten (German: "sour roast" from sauer for "sour" or "pickled" and Braten for "roast meat") is a German pot roast that can be prepared with a variety of meats—most often beef, but also from venison, lamb, mutton, pork, and traditionally, horse. Before cooking, the cut of meat is marinated for several days (recipes vary from three to ten days) in a mixture of vinegar or wine, water, herbs, spices, and seasonings. Since usually tougher cuts of meat (like rump roast, or bottom round of beef) are used for Sauerbraten, the longer marinating of the meat acts to tenderize it, resulting in a finished dish that is tender, soft, and juicy. The ingredients of the marinade vary based on regional styles and traditions throughout Germany.
This recipe isn't for the faint of heart. It takes 3 days to prepare and a good afternoon or morning in the kitchen. BUT the meal is so worth the time and effort to make! If you make this recipe I would love for you to let me know how you think it tasted.
Instagram user txfamilyof7 says it is sweet but fun to make!
TOP QUESTIONS I GET ASKED ABOUT THIS RECIPE: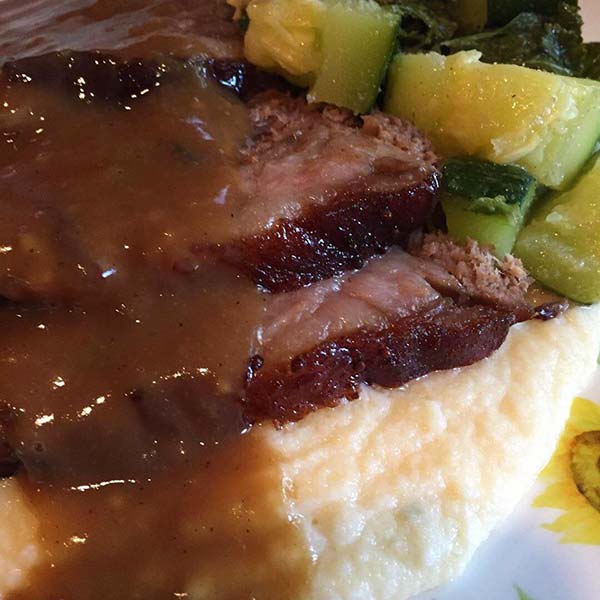 WHY DO YOU MAKE THIS RECIPE IF IT TAKES 3 DAYS TO PREPARE?
Great question. I grew up eating this dish. I know how good it is. If you do not have German family you may not have ever tried anything quite like this. It takes 3 days to marinate and ferment. Well worth the wait time.
CAN I USE BROWN GRAVY WITH THE MEAL?
Yes. Use whatever gravy you like best. I would reccomend using the sauce in the recipe though. It is so good!
CAN I USE OTHER MEATS OTHER THAN BEEF?
You sure can. Venison, lamb, mutton, pork, and traditionally, horse. :/ I have never tried horse btw!
Printable Recipe
German Sauerbraten Recipe
German Sauerbraten Recipe
Ingredients
2

cups

water

1

cup

apple cider vinegar

1

cup

red wine

1

onion, chopped

1

carrot chopped

1

tbsp

kosher salt

1/2

tsp

pepper

2

bay leaves

6

whole cloves

12

juniper berries

1

tsp

mustard seed

3-4

lbs

bottom round beef roast

1/3

cup

sugar

18

gingersnap cookies crushed
Instructions
In a large saucepan combine water, vinegar, wine, onion, carrot, salt, pepper, bay leaves, cloves, juniper berries and mustard seeds. Boil. Simmer for 10 minutes then cool completely.

Place meat in a large zip bag or non reactive bowl (glass or ceramic).

Pour the marinade into the bag, remove all of the air, seal it, place it in the fridge and turn twice a day for three days.

Heat oven to 325 degrees. Pour marinade, spices and all, into a Dutch oven. Stir in sugar then add the meat.

Remove meat from the dish and place on cutting board to cool.

Strain marinade. Discard solids. Return marinade to the pot over medium heat. Stir in ginger snaps. After 3 minutes use an immersion blended to smooth out the sauce. You could use a blender but blending hot liquids can be tricky as they like to bubble up and could burn you.

Slice beef into 1/4" slices.

Serve with the sauce over potatoes or egg noodles.
Notes
This recipe takes 3 days to prepare! 
More delicious recipes you may be interested in reading:
5 Reasons You Should Be Cooking With Cast Iron
Over 400 Amazing Meals In A Jar Recipes
Two Amazing 100 Year Old Mead Recipes
SWISS CHICKEN CASSEROLE RECIPE
If you enjoyed this recipe today, we would be grateful if you could share this article on your social media accounts. (Facebook and Pinterest).
If you haven't already, check out our Facebook page. We post delicious and usually budget friendly recipes every single day of the week.