6 Tips to Maximize Return Value on Your Kitchen Renovation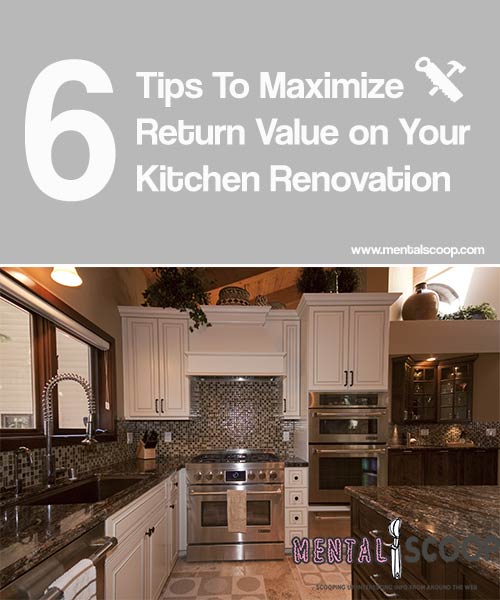 If you're looking to spruce up your dated home and want to guarantee that ultimately, the money you are ready to invest can come back to you, a great place to start is in your kitchen.
Kitchen remodeling can be among the most expensive renovation projects people can do in their homes. On the other hand, if done properly, these investments can also offer some major returns (and then some) when it comes time to sell the property. From floor plans to lighting, and cabinets to countertops, we've discovered six secrets of successful real estate agents when it comes to maximizing the resale value of your renovation investment.
Countertops
According to our experts, dark granite is an acceptable choice for countertops, but if you really want to showcase a newly remodeled kitchen, marble is the way to go. Even though marble requires maintenance and is somewhat vulnerable to staining, buyers particularly love the lightness and look of stones like Carrera and Calcutta. Another popular material is Caesarstone, which is light in tone but lower-maintenance and a bit more affordable. This can be a huge bonus for families seeking a more durable and child-proof kitchen. Multi-colored tile or marble with strong veining is considered very specific to a particular person's taste and could ultimately turn away the average buyer. Remember before your remodel that unless you plan to live in the home for the rest of your life, marketability can be crucial.
Cabinets
When it comes to cabinetry, lighter and brighter is pretty much always the most popular choice among buyers. While dark cabinetry can be suitable for a one-bedroom apartment that could be marketed as a bachelor pad, for example, that may greatly limit the appeal of a kitchen to other types of buyers. Another popular trend in cabinets is paneled appliances built to match the surrounding cabinetry. Our experts say that style creates a homier feel and a sleeker look that is attractive to a majority of today's buyers.
Appliances
If you choose not to go with applied paneling for your appliances, stainless steel is highly recommended as the next best thing. Also, when it comes to appliances, brands matter to buyers. "Sub-zero" is still considered the top brand, but as long as you choose something recognizable to future buyers, you should be safe. Our experts recommend avoiding the trend of "dishwasher drawers" which have largely fallen off in popularity recently. Apparently, these dishwashers are developing the reputation of taking up too much room and not functioning as well as traditional dishwashers. Garbage disposals and washer/dryer units near the kitchen are great ways to assure a return on your renovation investment.
Lighting
Following the rule of brighter being better when it comes to kitchens, don't underestimate the power of lights. Even in small kitchens, recessed and under-cabinet lighting can make a huge
difference according to our experts. As far as decorative light fixtures, brands matter again among buyers, and we're told "Visual Comfort" is a can't-miss brand.
Gadgetry
Modern buyers are fond of kitchen tricks and gadgets, especially in city properties where space is an issue. Under those circumstances, things like hidden drawers, countertop trash chutes, and spice rack drawers are very desirable add-ons. Don't feel the need to go overboard in this department, however, as gadgetry is not likely to seal the deal if the rest of the kitchen isn't appealing.
Open Floor Plans
As far as deal sealers, our experts say that an open floor plan is pretty much at the top of every buyer's wish list. Modern American kitchens have become all-purpose gathering spaces for dining, entertaining, and even homework. Meanwhile, formal dining rooms have really fallen by the wayside in recent years. When it comes to remodeling, our experts often see people incorporate the dining room into the kitchen. While this makes the remodeling project much more involved than simply sprucing up the existing plan, open kitchens are a huge selling point and an investment virtually guaranteed to see a return if and when your home hits the market.
Thanks for reading and be sure to share this info with your friends using the social share buttons below. Talking about social stuff, consider liking our Facebook page to keep up to date with our articles. Check out our other articles for more mental scoops!