Do-It-Yourself Gym Equipment: 21 Fitness Projects You Can Build at Home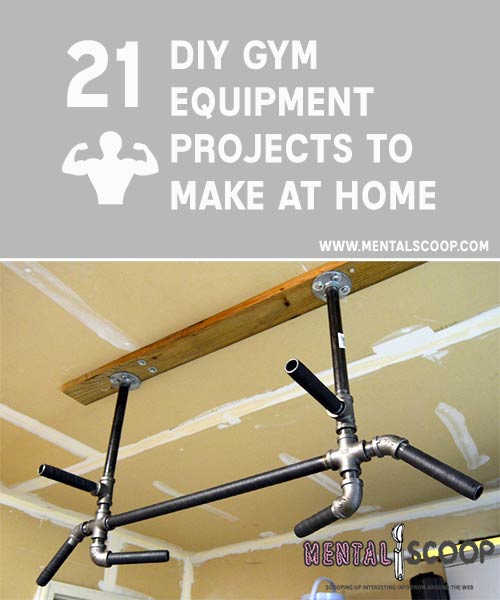 These days it seems nearly everybody is trying to find ways to save money. A big way to do that is to not only skip paying exorbitant gym membership fees, but also to make your own home the cheap and easy equivalent of a modern fitness center.
Fitness buffs around the U.S. are learning how to make their own workout equipment, saving money and decreasing the need for gyms or health clubs in the process. In this article, we explore 21 of our favorite DIY fitness projects designed to help you build the implements to work on your own strength training, cardio, and stretching exercises all from the comfort of your home. Though some of these projects require a bit of knowhow and a few power tools, many can be made by even a beginning builder.
Strength Training
1. Pull-up Bar
A classic complement for strength training, pull-ups work a range of muscles from the arms through the shoulders and into the back. Making a homemade pull-up bar is simple. Basically you just fit some pipes together and hang the assembly over a suitable load-bearing I-beam. The resulting pull-up bar will be adequate for use, provided you have the upper-body strength to execute a proper pull-up. If not, there are plenty of training programs and plans available online to boost your ability.
2. Kettlebells
The unique shape of kettlebells make them a great way to improve strength, cardiovascular endurance, and flexibility. While they're a great piece of equipment for workouts, they can often be cost-prohibitive for many who would buy them, particularly if different weights are desired. But there is good news here, for about $10 at a hardware or home improvement store, you can make a homemade kettlebell that allows for changeable weights. The assembly breaks down easily for easy storage. For those wanting a bell that more closely resemble traditional kettlebells, follow these instructions for a rounder kettlebell made of concrete.
3. Farmers' Walk Bars
The Farmer's walk is a great exercise for athletes training for strength around the world. Named for a farmer carrying full buckets to feed cows, essentially the farmer's walk consists of holding heavy objects in each hand and walking to the point of exhaustion. Though the move looks simple, it is very difficult and a great way to build core strength. With a simple pipe, some screws, and either purchased or recycled wood, it's easy to build two large farmer's walk bars to help you work on your strength training and perhaps make you the talk of the neighborhood.
4. Bulgarian Training Bag
Though they were originally designed for wrestlers, Bulgarian training bags are now used around the world to target legs, arms, back, and core. Essentially, they are like a softer version of kettlebells. Commercial bags can be rather expensive, running upwards of $250. A cheaper version is to simply fill an old truck or tractor tire's inner tube with rubber mulch or wood pellets, then tie up the tube and it's ready for you to swing, squat, or curl your way to better strength and fitness.
5. Sandbag
Sandbags are used similarly to kettlebells, but with the added challenge of shifting sand inside to enhance strength and endurance. Making a sandbag is cheap and easy. The essential elements are just contractor-grade trash bags, duct tape, sand or another filler, rope or zip ties, and a canvas laundry bag. Once the elements are assembled, you're ready to toss, swing, or you're your very own sandbag.
6. Water Ball
Along the lines of a sandbag but much more difficult to maneuver, water balls are the crazy cousin hanging out in the corner of the strength-training party. Water balls are also very easy to make. Simply purchase an anti-burst exercise ball, fill it almost full with water, and for about $10 and 30 minutes of your time you have a very effective training device.
7. Light Hand Weights
The key to a successful training program is starting within your range of ability, and frankly, not everyone is ready for farmer's walk with 100 pounds in each hand. You can start smaller with DIY light hand weights. These can be used in classic dumbbell moves for a budget-friendly hand weight workout. If the small bottles start to lose the element of challenging your strength, simply switch to larger containers like milk jugs filled with water, rocks, or sand.
8. Medicine Ball
A staple in core and training, medicine balls can be used in a variety of exercises to challenge the body and improve strength and performance. Make your own easily with an old basketball, a drill or awl, and the desired weight of sand.
9. Incline Bench
While not terribly popular with the faint of heart, the incline bench is a classic tool for lots of varied and valuable core work. Commercial versions of an incline bench can be very expensive, however, lending appeal to the DIY version. A great thing about making your own incline bench is also that it's adjustable and can be modified to suit different moves and levels of fitness.
10. Suspension Straps
TRX training systems have gained popularity recently thanks in large part to their minimalist approach to resistance training, but as the popularity of these and blast straps increases, so does their price. Thankfully, for about $15 at a hardware store and very little time investment, it's easy to make your own suspension straps. Simply hang them over a door jam, a sturdy tree branch, or a Smith machine, and get suspended!
See 11 more fitness projects you can build at home on the next page…